Vol.1 No.1 Spring 2013

View from the Podium
By Marvin Dolgay

It was with great pleasure to recently announce that our members had ratified the Framework Alliance Agreement with the DGC. We had an incredibly impressive turn out and the vote was unanimous. Once again, the engagement, wisdom and diligence of our board and our membership inspired me throughout this entire process. I truly mean that.
As we have been so focused on achieving our primary and elusive goal of having the means to create, negotiate and enforce rates and working condition terms with the CMPA, I would like to add some personal observations on some of the potential added benefits I have already seen germinating.
When Paul, Maria and I made our first rounds of casual meetings to get a feel of how other Guilds and Unions were perceiving their own state of affairs, it became clearer to me how much common ground we had with groups such as the Writers' and Directors' Guilds. Our clients are the same, our issues and values were in line and we talked fluently with each other about the film, TV and media industry.
We, as composers, are categorized as key creatives to filmmakers but have always been a bit of an anomaly. We are writers and producers with our own culture, language and supplier base. I don't think I'm the only composer amongst us who often feels like it's we alone who understand the unique challenges of our craft. (On the other hand, I must confess, that I have felt that this one degree of separation has also been a blessing as well as a curse. Can I use lol in an article?) Added to this anomaly is the fact that we are not in casting, on set or in the trenches of filming and are considered post-production, as in after the production. This widens the culture gap with our fellow key creators.
During this negotiating process, that has lasted more than a year, I already feel this gap has narrowed. The DGC's understanding of who we are, what our issues are with the producers, and yes, sometimes with the directors, has grown. A lot. "You know, one less crane shot buys you a live session" is something I keep saying with a joking smile as we discussed ways that the directors could get more bang for their projects. (Seriously, can I use lol in an article?)
In Toronto, we were invited to a directors' night at TIFF Lightbox. Many of us came out, (great timing for our negotiating optics btw), and after the Actors' Studio type format interviews, we all had drinks, food, schmooze and mingle time. It was so fantastic to see our members, directors and producers (as many directors are producers) becoming part of the same family. I could already feel a greater sense of inclusion, as all were aware of the alliance talks that were going on.
This is a historic moment for the SCGC. It not only sets a clear path to achieve a collective bargaining agreement with independent producers, but it also opens a door for us to further these family ties within the broader community. It is my hope that this will serve all of us equally well, alongside the collective bargaining initiative.
Now the real work begins.

Mychael Danna in Conversation


with Erica Procunier 
Mychael Danna is the most recent Oscar® winner for Best Original Score and is one of Canada's most successful film composers. Originally from Burlington, Ontario, he studied composition at the University of Toronto and became the composer in residence at the McLaughlin Planetarium from 1987-1992. Since his debut feature film in 1987 (Atom Egoyan's Family Viewing) Mychael has written more than 70 scores for feature films and television. He has worked with many acclaimed directors such as Bennett Miller, Terry Gilliam, Marc Webb, Valerie Faris, Deepa Mehta, Mira Nair, Joel Schumacher, Denzel Washington, Atom Egoyan and Ang Lee.  Mychael is also a Grammy and Emmy award nominee and the recipient of many Genie and Gemini awards.
In 2013, Mychael won the Golden Globe and the Academy Award® for his score to Ang Lee's Life of Pi. He was also nominated, along with vocalist Bombay Jayashri, for Best Original Song for "Pi's Lullaby" from Life of Pi.  Mychael was kind enough to speak with Cue Notes about his adventures at the Oscars, his career, and his outlook for the future.
Erica Procunier: Congratulations on your win at the Academy Awards! It's very exciting to see one of our own members win one of Hollywood's highest honours. It must be a very proud moment for you. Can you tell us about how you and Ang Lee are feeling?
Mychael Danna: For Ang and I it really is a wonderful moment for us because this was a very difficult film to do. In all departments, we struggled mightily with the idea of taking this universally agreed upon "unfilmable" book and turning it into a motion picture. It was something we knew from the beginning was going to be difficult, but how difficult we didn't know until we were deep into it. Certainly there were many moments where we felt that all the people who said it was impossible were right, and that we had taken on something that was going to end in failure. We would all agree this was the most difficult thing that we've ever had to do.
We got to a point, (for Ang it was 4 years, for me it was almost exactly 1 year), where we finally had a screening where we watched the film together. It was only 2 months before the release date and we had recorded the music and had much of the visual effects in. Up until they dimmed the lights that day, we were full of doubt and fear. When the lights came up, we sat in complete silence and no one said anything – there was a real feeling in that room, that we had got to where we were trying to go. From that moment, Ang just started smiling and has not stopped smiling since. It took a tremendous weight off our shoulders.
Then it went out in the world where it got a very warm reception from every country in the world. It's a truly international film. (The film has now grossed over $600M worldwide – Ed.) I think we knew it that day. We knew that people would feel what we've done here. After a very difficult journey it was very gratifying, and so to have awards on top of that is wonderful, but honestly the smiles had begun before that. Win or lose, it really wouldn't have taken that away from us. Of course, having the world embrace it, and having awards from our peers, people that understand intimately what it is that we do everyday and how difficult a film like this is to make, that's fantastic.
EP: Have you been able to take a bit of a break or holiday after the awards season push?
MD: No. No holidays. I haven't stopped. I did Atom's film, Devil's Knot, right after I had finished Pi. Then, by the time Devil's Knot was finished, awards season was in full swing. It's been intense. Right after my agent saw the film, he said "Get ready for a ride!" and I didn't really know what he was talking about. Now I do. It's extraordinary and it's fun much of the time, but it's really intense and relentless. It's as hard and as much work as making a movie. It's fascinating. It's a whole other art. It was a really intense experience that went up to and past the Oscars, because if you're fortunate enough to win, then you do a lot of follow up interviews and events. Those are literally still going on. This week I think I have two, and then I will actually be finished with Life of Pi.
EP: It's generally not composers doing these big interviews. What was it like as a composer to get to talk so much about what you're doing?
MD: It's a wonderful opportunity to explain to people what it is that we do. Obviously you can't go into much detail. But it's a great moment to make what we do known to people that go to movies and don't really think about or notice the music in a focused or educated way. It's a great opportunity to make them notice. In a film like Life of Pi where a lot of the dramatic power comes from the music, just given the kind of film it is where there are big stretches with no dialogue, it is a moment where people do notice the power of score.
EP: Can you tell me a little bit about your early days of film scoring?
MD: I went to the University of Toronto for music, and composition specifically. There were very few film music departments anywhere, and Toronto did not have one. It was very much an old school music composition program. I also did some ethnomusicology and other areas of interest – early music and so on.
EP: Did you choose to do that knowing you wanted to be a film composer?
MD: I knew I wanted to be a composer. I had no idea how or what that was going to lead to. I actually had very little interest in film music as I was growing up. I was exposed to film like everyone else but it wasn't something that I found very interesting or compelling.  I'm definitely not one of those people who heard a score or a certain composer in a movie theatre, and went, "Oh, that's what I want to do". I wanted to be a composer since I was very young, but it was based on classical western repertoire and music that I heard my father singing (he was an amateur singer). I was very attracted to 18th and 19th century symphonic music. That's what brought me into music and that's what took me all the way into studying composition in college.
I grew up in suburbia, but once I came here to the University of Toronto, to the city, the rich multicultural explosion that was going on at the time was incredibly stimulating and inspiring to me. It was a whole new world opening up of different instruments and different ways of looking at music. At the University of Toronto there was a decent ethnomusicology program and that was what really excited me. But again, I had no interest in film. What I was doing for fun was sound and music for theatre. I did a film score for a little educational film, from which I actually got fired. That was my very first film experience. I did session work for bands on synths. I was kind of trying all sorts of things. I got to know the planetarium composer in residence right next door at McLaughlin, which eventually ended up being my job. So it really was a wide experience of feeling my way into how I could possibly make a living writing music.
Theatre was the place that I had the most fun. And that seemed to be the best fit. I liked the collaborative spirit. I liked working with other people to a common goal. It was in that world that I met Atom Egoyan and we began working together on his first big feature. So it really was kind of a mistake. And like I said, my first film experience was very unappealing; working for somebody who was looking for something that I didn't get.  It was an interesting first experience, but Atom and I approached it more like theatre and it was in an art driven way. It was truly fun and stimulating. I was able to apply all the things that were interesting to me – non-western music, minimalism and electronics. Together, we learned how to make films and to score films.
EP: Did you have anyone to guide you along the way?
MD: No. I never had a mentor. I mentor a lot of people now, but I did not have that experience. I had to figure out how to do everything myself. How to synchronize picture with sound, for instance. It was not easy back then. I figured out all of those things myself. I didn't have any guidance. I was in a vacuum in that sense. There just wasn't a film music community here in Toronto at that time. Certainly there were a few people doing it – Howard Shore was one of them – but not many were doing the kinds of films I was doing. We were all just in our own worlds and coming up with our own ways of doing things using our own solutions. Perhaps that's why when you look at a lot of the work and a lot of the people that came out of that time, it's a lot of really interesting stuff. It's because a lot of individuals had different approaches to the same problems.
EP: You've recently aligned yourself with the Canadian Film Centre as Composer Chair for the Slaight Family Music Lab. Why is that relationship important to you?
MD: It's always hard to come up in this kind of a career at any time for different reasons. I think now, the challenges are very different. I don't think it's possible any longer to do it the way I did it. It takes networking and the ability to meet other people who are doing the same thing. You have to have a community like that. The CFC is really a fantastic place. I wish there was a place at my time that I could have done workshops and understood how to do things. It's important to me, having never had a mentor. It's kind of fun to be involved in that sort of relationship at this point.
EP: And it's been going well?
MD: Yeah it's been wonderful. It's been a particularly intense year for me with a lot of travel and I've been away a great deal, but the residents in the program are incredibly talented. It's been great to do some fun things with them and introduce them to some work environments and people that I know in LA. It's good to just work through their most important working relationships, like with the director, in an actual working environment.
EP: When did you decide that it was imperative to move to L.A., and what was your recent motivation to move back to Canada?
MD: I was very, very established when I went to L.A. I was already working on L.A. based films, New York based films, and all kinds of international films. It's not like I went there to have a career. I had a career here, an international career. It just got to the point that there was a great deal of travel back and forth going on at that point. My wife and I were recently married and we were about to get a place together and we just thought, "Well, this will be fun, let's change everything up here and go to Los Angeles". Really it was more of a lifestyle decision than a work decision. It certainly turned out to be incredibly fruitful for my career. But if you really look at it, how different would it have been? There are certainly a few films that wouldn't have happened or might not have happened if I hadn't have been there. But if you look at my biggest films, the most important ones that I've done in the last 10 years, a lot of them are actually New York based. It didn't make or break my career. It's certainly a lot easier place to work from. The infrastructure is very developed there. It gave me a different perspective on a lot of things by just living in another country for a while. But we moved there in 2004 and then we have two small kids, and we always felt that we wanted them to go to school here in Canada, so that's why we came back. Our decision was based on non-career things. That being said, it helped me make some great relationships. It's certainly a wonderful place to be a film composer, no question about that. I'm glad I didn't go earlier – I already had my voice. I had a distinct style and I already had a stable of directors that I was working with and had relationships with. I was fully formed by the time I went down there. I think it would be a confusing place to go if you're young. I actually think it would be harder to develop as an artist there.
EP: What is your relationship like with your agency?
MD: I've had the same agent for 20 years. More than 20 years. So pretty good, pretty close. We worked together on my career. There's a lot of strategic thinking. A lot of young composers ask me "When should I get an agent?" I know that they think that agents get them work. That's not actually how it works. Agents do not get you work, or only a small percentage. You get the work first and they negotiate the deal, that's their strength. But you have to build your career by yourself. Certainly until you have a career, no one is going to be interested in representing you. It's basically as simple as that.
EP: Can you tell me a bit about your studio?
MD: My studio is incredibly basic and would probably shock most composers. I'm in Logic and I try to keep it all in the box. The main reason for that is I travel a lot. I end up writing all over the place. On Life of Pi, a lot of it got written on a laptop. You can't have a lot of peripherals and make it work. Depending on where Ang was, he wanted me there with him writing. So, my laptop was my rig. I had a little portable USB keyboard and a laptop. My studio is kind of jaw-droppingly simple and I'll bet I have the most stripped down studio of anybody in the Guild. It depends on what you're doing, and obviously every project's different, but on Life of Pi I obviously didn't record anything myself. I had my laptop and we'd hook it up with whatever Pro Tools rig happened to be in front of me.
EP: I'm interested in the process you go through from start to completion. Who are the key people and positions that are really important in helping get your music delivered?
MD: Every project is different in every way. I feel like I almost don't even have a base anymore. Every picture seems to happen in a different city. If we talk specifically about Life of Pi, it was written all over the world. Some of it was written here in Toronto where I have a studio set up. A fair bit of it was written in New York where Ang had an early post-production office. He needed to be reviewing shots every day so I went there and worked off a laptop. We went to India and wrote the song there. Then we were in L.A. for the last four months, where there was a copy of the rig that I have here in Toronto. It wasn't anything particularly ground breaking: it was Logic and Vienna on towers as opposed to laptops. That was easier to work on physically more than anything. For the last three months, there were three of us working – Rob Simonsen, Duncan Blikenstaff and myself. They helped with the many and frequent picture changes, conforming, arranging and all those sorts of things. We worked very intensely as a team on the Fox lot with Ang working only 100 yards away and coming over a couple times a day to hear things. We would have different cues on different rigs. We had three writing rigs and a slave machine with some sounds on it in this bungalow. Duncan had 7 cues on his rig, Rob had 10, and I had 20 on mine. It just worked like that. It was manageable and everyone could stay up to date with picture changes. That's how the last four months went and basically everything was written already by that point.
Near the end, the orchestrators got involved. My usual orchestrator, Nicholas Dodd, was not available. So I ended up using eight orchestrators, which was challenging in a lot of ways but we made it work. It was definitely not desirable for me not to be with my usual orchestrator, but the stuff was coming in so late that we needed multiple people working on it. The one that I'd used before was Dan Parr, who is Toronto based. He's incredibly talented and we work together very well. He was my one safe familiar orchestrator I knew I could depend on. But there was so much that we had seven other guys – they came through. Brad Haehnel is my long time engineer who started at Manta here in Toronto. He was the head engineer in L.A. and ran the main sessions there. I had engineers all over the world. Another one in Toronto is Ron Searles, who is also ex-Manta, and we recorded the gamelan ensemble at CBC. It was a complicated multi-national effort and took a lot of people in a lot of places. We had several editors going at the same time. We had an editor whose only job was to cut orchestra and all the Indian instruments and percussion and bring them into proper grid. There were also several Pro Tools guys. Every team is different, and the team changes from film to film. The film I just finished with Atom had a very small team. It can go from one extreme to the other.
EP: For those of us who has not yet had the pleasure of working with an orchestrator, how far do you take your own arrangement, and what do you hand off to them?
MD: It's pretty detailed, and in a lot of cases it's almost indistinguishable from the mock-up. Especially with a director like Ang or Atom that are very involved in the sketching stage – they've heard the midi sketches many times and they're all kind of orchestrated already. For example, there's flute, clarinet, strings and brass. You might be able to get away from that orchestration a little bit, but they're going to be aware if suddenly the flute is doubled by bassoon or any extra things like that.  Some of those things happen, but more often than not my stuff is pretty much pre-orchestrated with the exception of strings and brass that are often just done in a general way. The strings are all on one track and not divided up and voiced out properly. Sometimes some voicing might be done, certainly solos, but that's the lion's share of the orchestration work – strings. If you heard the sketch and then the final mix, other than the obvious extraordinary sound quality and musicianship that is missing from the sketches, it's very close. And so they just get a midi file, or depending on which of the eight orchestrators it was – Dan for instance – I could just send him a Logic file. All the time signatures are correct and everything's sorted. A great deal of the work's been done already.
EP: So, it's much different than the classical use of the word orchestration.
MD: Certainly there are places where we say, "Soup it up! Go for it." But in a lot of these projects there's a lot of detailed intimate writing. They're not a big wash of 19th century orchestration. But, I have done films where the orchestrator certainly takes it to another level.  But on Moneyball for example, and many of the other films that I've done, the directors want to be minimalist with the music.
EP: You were also nominated this year in the Best Original Song category for your collaboration with Bombay Jayashri. Do you have any advice for composers who may be asked to collaborate with songwriters in the future?
MD: You find your strength and you bring in somebody that can supplement what you're good at and maybe supplement the things that you're not good at, or that you need to fill in on this particular film. Obviously, for a film where we wanted a Tamil language lullaby, Jayashri was supplying things that I would not be able to. I sketched the melody out but I was very open to her making it her own and making it Indian. She did so and did it in a beautiful way. It's fun to write with other people. I enjoy that. You just have to be open and collaborative and every situation is different. I didn't feel it was any different than doing the score and collaborating with Ang, or collaborating with Devotchka on Little Miss Sunshine, or collaborating with the orchestra. A great deal of the shaping happens after it's orchestrated and they play it through. Then you can take it to another level. I will change a lot of things and I will double things and get parts printed depending on how much time I have. You can take the orchestration to another level and shape the performance. It's the same thing with the collaboration with Jayashri. We were hanging out together talking about what our goal was, what we were trying to accomplish, and then we just start to play.
EP: Have you ever felt any pressure to follow trends in Hollywood, or can you ignore that and go on your own path?
MD: I think that's one of the reasons I'm really grateful for my non-California upbringing. I grew up in Toronto in a time where independent film was really flourishing and I started in pure music and worked in theatre first. I came at film from a different angle. Growing up, I heard film music but I didn't find it particularly interesting and wasn't all that curious as to how they did it. So when I started working with Atom, we really just came at it from a theatre music perspective – "what do we want to do and how can we get there?" –  as opposed to "how is the supposed to be done?" I never listened to other film music until later in my career. So no, not really. I'm listening to a lot of different music all the time. But certainly I don't feel pressure.
EP: Are you listening to any other artists or composers to influence you, or just for enjoyment?
MD: Each project dictates what it is that I'm going to be listening to. And I will study very diligently, whatever it is I need to study – if it's Indian music, or Armenian music, or medieval music. But what do I listen to? My favourite thing right now for some bizarre reason is… dance music. I like house, I like a lot of adrenalized dance music. I can't explain it! That's what is going on a lot of the time when I'm driving.
EP: Are they any specific artists that come to mind?
MD: That's an interesting question because I was noting that I don't really listen to the same artist twice. If I have 200 tunes, there are probably 180 different artists. I listen to Pandora, where it asks, "Do you like this song or this song?" and then it just starts playing.
EP: Oh, sort of like the app Songza, with its curated playlists based on your mood?
MD: Yes, I think I would like that app. We also have Satellite TV with 100 music channels and I often have it on dance, and when I hear something I like I will download it. It's kind of bizarre, but then you know, a year ago I was really into old time banjo. So I kind of go through moods like everyone does. In a month I might be right off this whole thing. In ways it's easy and also hard to be introduced to new music today. It used to be that you listened to a radio station that had your style in mind, but those days seem to be gone. You can be specific but it's fragmented now. I love stuff like that where you can just discover and find a whole bunch of new things you've never heard before that you actually like. By the way, the last channel I would listen to would be the film music channel! I can't imagine listening to that!
EP: Well, it wouldn't have the visuals with it…
MD: That's a whole other discussion about whether film music deserves or has a place outside of film. It's been coming up for me a lot lately because people have been asking for a Life of Pi suite that they can perform. I don't feel that it should be taken out of the film.
EP: You can pretty much have your pick of any project you want. So what's next for you?
MD: Well, there's nothing inked right now, but my next release is the Atom Egoyan film Queen of the Night. I'm really looking forward to getting back into work and moving forward. This has been an incredible moment in my life. It's something that I'm still processing. It in a lot of ways it doesn't feel real yet. But I think that's probably a good thing. I don't see it changing my attitude towards my work and I don't see it changing my career. I'm doing the exact kind of films with the exact people I want to. I don't imagine that things will be all that different … but ask me again in a year!

SCGC News and Events


Member News:
SCGC members Adrian Ellis & Charlie Finlay were part of the panel discussion "Anatomy of a Horror Score" at the Reel World Film Festival April 12, 2013. Joined by director Gavin Michael Booth of "To Hell with Love", Charlie moderated a discussion on how composers and filmmakers work in collaboration to help tell the story with music, with narrative, perspective, and character being the driving forces behind the original music score.
Chris Pauley had three screenings in April: The films "Irene" and "Adaptation" were both screened as part of the Halifax Independent Film Festival.  "Roaming" screened at the Carbon Arc Cinema in Halifax.
Jeff Toyne's new TV series "Rogue" premiered on April 3, 2013 on Audience Network.
Ken Worth's latest film "13 Eerie" was released to DVD early in April.
Victor Davies enjoyed the Toronto premiere of his Jazz Piano Concerto on April 13, 2013.  The concert featured pianist Maxine Williams with the Cathedral Bluffs Symphony  Orchestra conducted by Norman Reintam.
Janal Bechthold's film "Manfred and the Waiting Room" premiered at the Maryland International Film Festival April 13, 2013
Trevor Morris' series "The Borgias" premiered Season 3 April 14, 2013 on Showtime.  His series "Vikings" was also renewed for a second season! Trevor's latest film "Olympus Has Fallen" continues to be screened in theatres across Canada and the USA.
Adrian Ellis' film "To Hell With Love" premiered at the Reel World Film Festival April 14, 2013.
Maxime Goulet composed music for the recent Gameloft release "Dungeon Hunter 4".
Tristan Capacchione's film "The Offering" premiered at WorldFest Houston April 20, 2013.
Kris Fulton's film "Stalled" will be screening at Cannes and the film "Love, Sam" screened at TIFF Kids April 20, 2013.
Studio Cat's (David Wall, Jamie Sheilds, and Adam White) latest documentary, Allan Zweig's "15 Reasons to Live", premiered at Hot Docs April 27, 2013
Sean Boyer composed additional music for the TV movie "Age of Dinosaurs" which will be premiering May 7, 2013 on Syfy (USA) and Space (Canada).
Eric Cadesky & Nick Dyer's series "Museum Secrets" premiered Season 3 early in April. May 10, 2013, their film "I Declare War" will have it'=s theatrical release at the TIFF Bell Lightbox before being released to theatres across Canada.
Congratulations to Richard Rodwell whose series "Cash Cab" has been renewed for an 8th season!
Russell Soares has just completed the score for his first feature film!  Watch for "Late Night Classics Presents: Gorilla!" hopefully to be released soon!
Keep an eye out for the following shows: Cache Craze (David Krain), Border Security: Canada's Front Line (Greg Fisher & Derek Treffry), Saving Hope (Gary Koftinoff), Cracked (Rob Carli), Bookaboo (Ray Fabi).
Don't see your name here?
Email:  screencomposers@gmail.com
with your latest news!
Industry News:

The Academy of Canadian Cinema and Television presents "Academy Breakfast Club: Getting Canadians To watch Canadians" May 1, 2013
Music Monday: The Coalition for Music Education presents Music Monday, an annual event that brings together thousands of students, musicians, parents and community members across the country to celebrate the gift of music in our lives, on the same day at the same time. This year features a first-ever premiere of a song from both Earth and Space as Commander Hadfield from the International Space Station and Barenaked Ladies frontman Ed Robertson lead the coast to coast performance on May 6, 2013 at 1pm. http://www.musicmonday.ca/
WIFT Vancouver presents "Power Pitch" networking breakfast on May 25, 2013
Toronto Film Networking Event will be held May 30, 2013 at the Urban House Café.
38th Annual Toronto International Film Festival runs from Sept 5 to 15th, 2013.
Film submissions will be accepted until May 31, 2013.
Manitoba has extended their industry tax credits to 2016 and has increased digital incentives. http://www.creativemanitoba.ca/news-events/news/read,385/373/manitoba-government-extends-the-manitoba-film-and-video-tax-credit-and-the-manitoba-interactive-digital-media-tax-credit-to-2016
The OMDC has reported that 2012 was the Strongest Year Ever for Ontario's Film and Television Industry:
http://news.ontario.ca/mtc/en/2013/03/strongest-year-ever-for-ontarios-film-and-television-industry.html?utm_source=shortlinks&utm_medium=web&utm_campaign=sck
Upcoming Film Festivals:
Hot Docs – Toronto ON, continues until May 5, 2013 www.hotdocs.ca
Reel Shorts Film Festival – Grand Prairie AB, May 1-5, 2013 http://www.reelshorts.ca/
San Francisco Film Festival – San Fransisco CA, continues until May 10, 2013 www.sffs.org
DOXA Documentary Film and Video Festival – Vancouver BC, May 3- 12, 2013
www.doxafestival.ca
Cannes Film Festival – Cannes FR, May 15-26, 2013 www.festival-cannes.com
Yorkton Film Festival – Yorkton SK, May 23-26, 2013 www.goldensheafawards.com
Dreamspeakers Film Festival & Forum – Edmonton AB, May 29-June 1, 2013 http://dreamspeakers.org
Toronto Animation Arts Festival International (TAAFI) – Toronto ON, May 31-June 2, 2013 http://taafi.com/
Stream Original Internet TV Market – Santa Monica CA, June 3-4 2013 http://streammarket.tv/2013/
Banff World Media Conference – Banff AB, June 9-12, 2013 www.banffmediafestival.com
Marché International Du Film d'Animation (MIFA) – Annecy FR, June 10-15, 2013 www.annecy.org
North by Northeast Music and Film Festival and Conference – Toronto ON, June 10-16, 2013 http://nxne.com/
Palm Springs Shortfest and Film Market – Palm Springs CA, June 18-24, 2013, www.psfilmfest.org/
Female Eye Film Festival – Toronto ON, June 19-23, 2013 www.femaleeyefilmfestival.com

Composer Spotlight:

Mark Korven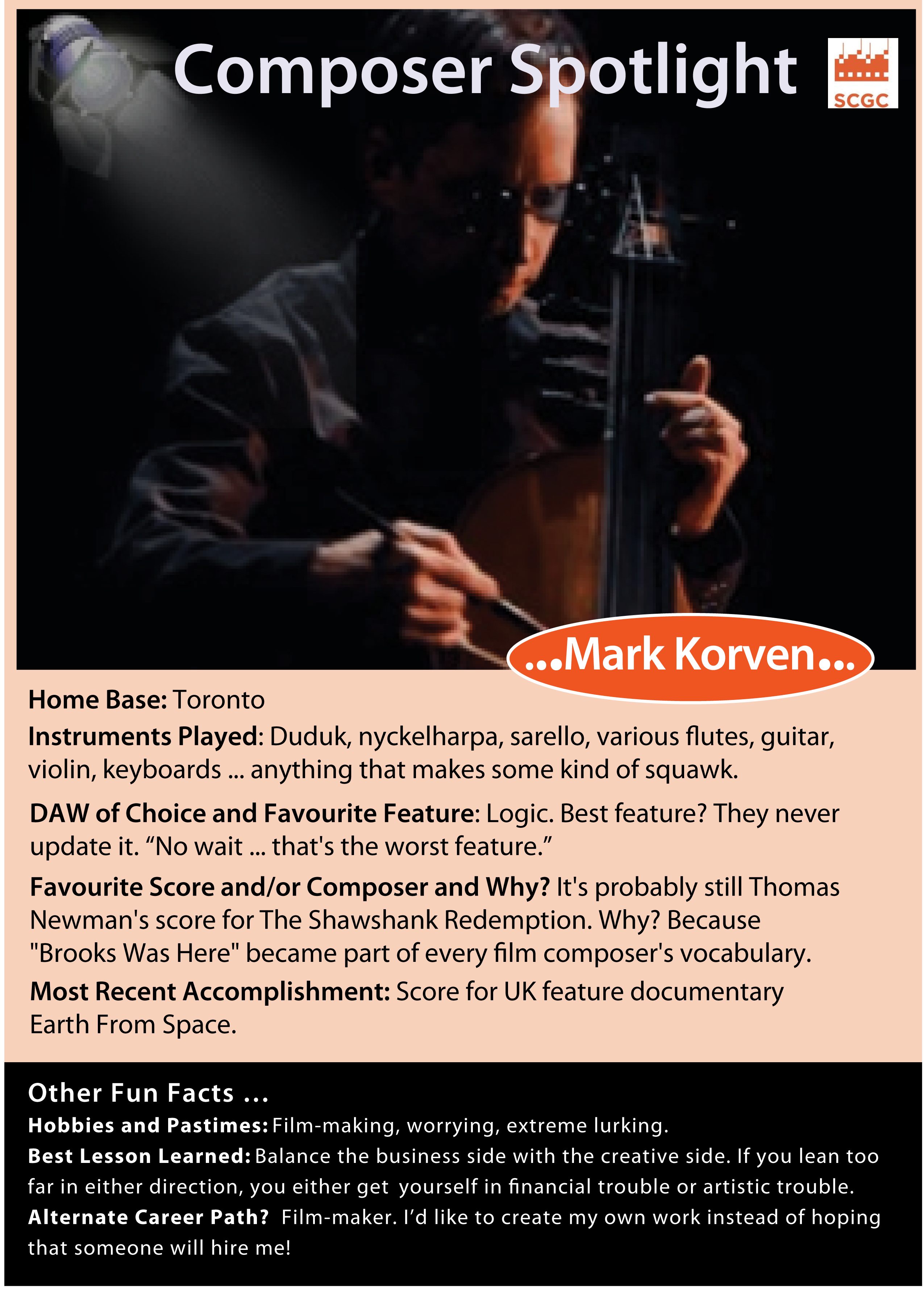 _________________________________________________________________________
We welcome your feedback and suggestions for story ideas!


Email the Guild:  info@screencomposers.ca 
Cue Notes:
Craig McConnell: Editor
Nicholas Stirling: Layout, Web
David Schellenberg: Design, Technical Support
Admin: Tonya Dedrick, Maria Topalovich