Vol. 8 No. 2 – Fall 2020
A MESSAGE FROM

SOCAN
Congratulations to SCGC members on their SOCAN Awards!
Though it looked a little different, we were thrilled to celebrate the tremendous accomplishments of Canada's Screen Composers.
You can check out all the 2020 SOCAN Award winners at 2020SOCANAwards.socan.com
In upcoming issues, we look forward to sharing more news, events and the answers to your questions as SOCAN becomes a regular contributor to Cue Notes!
The SCGC is very excited to announce the new SOCAN addition to our Cue Notes publications.
Stay tuned for more information coming soon.

View From The Podium:
by John Welsman, President
Happy 40th Birthday, SCGC! That's to all of you, our members!
Incredible to think that our Guild has reached this milestone. Not that the founding members set out to achieve anything outlandish or controversial that was bound to fail. As you'll read in the 'Screen Composers Guild of Canada – 40th Anniversary' elsewhere in this issue, the whole idea of the Guild was based on the need Ben McPeek and others saw for a uniquely Canadian industrial solution for scoring in Canada, distinct from the US industry to the south of us.
From the start, it was firmly based on collegiality among composers who, at the end of the day, were competing for the same jobs. The founders learned years ago that this approach would help establish a viable Canadian scoring industry, and I'm pleased to say that cornerstone is firmly in place today. As I speak about the Guild with others in the industry, I find myself frequently quoting our second President (and also a founding member), Glenn Morley when I echo his motto 'a rising tide lifts all ships.'
In fact, Glenn recently wrote that 'although it has served the Guild well as a guiding ideal since inception and is still as true and useful as ever, it may now benefit from some reinforcement. In keeping with the nautical theme, all sailors know that every rising tide eventually falls. In a waning tide, and now facing immense global challenges, perhaps it is time to add: 'We cannot change the wind, but we can adjust our sails'.
I like that. So, here's to another 40 years of adjusting our sails to meet the wind. Through the generous, community-focused volunteer efforts of so many members on a myriad of projects, the SCGC continues to fulfill its mandate to advocate for and improve the livelihoods of Canada's screen composers.
While we're not able to gather in celebration – that will have to wait until we're post pandemic – I propose a toast to the SCGC – may it long thrive and continue its vital role in Canada!
JW, President
******************
One Step Back,

Two Steps Forward:


An Interview Within the BIPOC Scoring Community
Recent events and protests across the globe have called attention to the persistence of systemic racism at every level of society.
Gagan Singh, co-chair of the SCGC Diversity, Inclusion and Gender Committee, virtually "sat down" with composers 
Amin Bhatia, Suad Bushnaq, Darren Fung, and Jina Anika to talk about their own experiences in facing challenges as members of the BIPOC composer community.
Gagan:
Have you ever faced any challenges in your career due to your being a person of colour? If so, are you able to provide specific examples of the types of issues have you had to face?
Amin:
My parents are both Ismaili Muslims, but they encouraged all of their children to learn and become part of the land we were in. So, we have learned many cultures, many religions and many forms of music, and I gravitated to Western orchestral classical music very quickly. But every now and then I would get categorized as an "Indian" composer and expected to create music only for and about Indian people. But frankly I'm more about "Stravinsky" than "Shankar"!
In my radio broadcasting days when I worked as a DJ, I could not use my real name because it was too ethnic. So "Amin Bhatia" became "Allan Benson" in the 1980's in Calgary. Thankfully that attitude has changed in broadcasting over the years
Darren:
I don't think I've ever lost a gig because I'm Chinese Canadian, (and I can think of at least two gigs that I got specifically because I was!).  But I think something that has come up on a more personal note, is dealing with parental, family, and cultural expectations.  There are so many things in this job that are not traditional, or not safe.  I remember getting into a huge argument with my mom when I was in high school about going to music school.  And again, after I graduated from university and embarked on screen composing full time.  I think even now, my parents don't fully understand what I do for a living.  On a comedic note, when we premiered The Great Human Odyssey in Concert with the Edmonton Symphony Orchestra, we premiered with a standing ovation, full house.  Backstage, as we were toasting with champagne, my mom asks my old composing teacher, and friend and mentor, John Estacio: "So, John, you're the expert… was that any good?!?!?"  You need to have such a strong support network when you're in the emerging phases of your career, and I think the notion of being a freelancer, and being a creative, is something that a lot of families from traditional or conservative backgrounds have a problem relating to.
Suad:
As someone who's a fair-skinned first-generation Canadian of Arab-European roots, this question is hard for me to answer. On the one hand, I can easily pass for a 'white' person based on my looks. I get mistaken for being Italian or Jewish, or even East European (I'm part Bosnian). So, to say that I've been discriminated against or that I faced challenges due to my looks would be a bit hard to pin down. I can tell you, however, that up until three years ago and for a full ten years, I was a visible Muslim as I wore the headscarf (or hijab), and that identity, regardless of my 'fair' skin', did pigeon-hole me sometimes. I was only getting film gigs that had to do with Arab, Middle Eastern, or Muslim stories of all backgrounds. So, my challenges were related not to the colour of my skin, but rather to a religious attire that I used to wear, which gave me a specific identity. This is why I feel uneasy claiming to be a 'person of colour'. My experience cannot in any way be compared to that of a black composer, for example, because I can pass for anything and I can hide my ethnic identity. So, all this to say, this question isn't an easy one for me to answer, because my identity as a POC is debatable, even to me.
Gagan:
How have you been able to overcome these challenges and/or adversity?
Amin:
Like so many misunderstandings, one overcomes challenges one person at a time. I am very much a mix of Eastern and Western cultures and once someone gets to know me, they realize that I am not to be categorized in one narrow musical style… though one has to get into the room in the first place. Word of mouth as people got to know me plus having a sense of humour helped a lot. I was also grateful that many competitions I entered – like the Roland International Synthesizer Competition – had a blind jury with no preconceptions of what an Indian composer's music should sound like.
If you want a childhood story, growing up in Calgary, Alberta had its challenges in the 70's. As my Dad's career progressed and we moved to better neighbourhoods we would get dirty looks from neighbours. My parents simply reacted with kindness one neighbour at a time. My mum would make a plate of samosas and go to that house and say, "Hi, we've just moved in. Have some Indian food," and that eased the tension instantly. Soon we all became the best of friends. My dad actually was the one that told the best Indian jokes in town. He would use humour to deflate any tense situation. He always told me: "People are just scared of what they don't know, so make the effort and let them get to know you. You'll find you have more in common than not. We can and should always be able to celebrate our differences and even laugh about them." Such wonderful advice from my parents. If we all did this there would be no war anywhere in the world.
Darren:
Early on my career, I think I needed to really keep focused in terms of what the ultimate goal was, and that was to have a full-time, sustainable career writing music for media. When you may not be seeing the success that you'd like to be seeing, it's hard to confront those family expectations on top of the already huge self-worth and self-doubt issues that you may be dealing with.  My mom no longer bugs me about going to law school (okay, at least not weekly she doesn't…).  When I first started out, I remember the dreaded call home when I needed help making rent.  The one thing about Chinese parents is that they will never, ever, ever let you fail.  They will always help you out. Of course, that help comes with a significant price: constant lecturing, lots of unsolicited advice, value judgements.  And that takes a toll on your confidence, which can ultimately be the death knell to your career.  Ultimately, I think what keeps you going in those lean years is just remembering that desire to make this career path work, and by surrounding yourself with people and organizations that will prop you up.  The SCGC was pivotal for me, especially in introducing mentors to me who I can say really looked out for me.  I don't think any of that had to do specifically with being a person of colour, but I think emerging composers will find support wherever they can, and that will include organizations like the SCGC or the Composers Diversity Collective.
Suad:
If I were to refer to the fact that I was being pigeon-holed due to my ethnic background, (which is something I'm vocal about in my website… I self-identify as an Arab-Canadian composer), then I'd say that doing a residency at the Canadian Film Centre was my door into scoring non-Middle Eastern or ethnic films. It allowed me to score films that have nothing to do with my ethnic background, which in turn helped showcase my ability to compose more mainstream scores that are outside my niche.
Gagan:
What is your advice for emerging composers of colour in today's era for building a fruitful and sustainable career?
Darren:
This may be too simple of an answer, but I really think it boils down to just doing great work.  I think that the best way to get people to hire you is to give them no reason NOT to hire you.  It means understanding the business, networking, making sure people have a positive impression of you.  Surrounding yourself with allies.  I think whatever adversity you may have in your life or career, as horrible as this may sound, is irrelevant to getting the gig, and getting the gig done well. I remember watching an episode of #blackAF where Kenya Barris says: "Nobody wants to be known as a great Black writer.  You want to be known as a great writer who happens to be Black."  It's a line that really resonated with me, and if you replace writer with composer, and Black with Chinese, that really encapsulates my feelings with regards to diversity.  For the longest time, my publicist encouraged me to try and capitalize on the Asian-American press and I really felt uncomfortable doing that.  While I'm super proud of my heritage, I didn't want my ethnicity to define me as a composer, and like Kenya Barris, I don't want to be known as a great Chinese composer, I just want to be known as a great composer who happens to be Chinese.
So, back to the question… advice?  Be a sponge.  Learn from the best. Don't be an asshole. Surround yourself with people who will prop you up. There is no excuse for not submitting your best work, and that will always be your best calling card. Don't be afraid to take the extra opportunities that are afforded to you because of who you are. I recently sat on a Motion Picture Association panel celebrating Asian American Heritage month with some pretty high-profile people on it and am super grateful for the exposure it offered me.  I think five years ago I would have been more reluctant to have my publicist put me up for those opportunities, but I think now I've gotten off of my philosophical high horse and I'm happy to seize those opportunities, because we should never say no to good opportunities.
Amin:
Well the good news is that it is actually encouraged and almost trendy now to be your true self and to not try to be or write anything that you are not personally familiar with. So, anything that makes you you, be it colour, race, gender identity, gender preference, physical or mental challenges, can become part of your sound that can enhance a film.
That being said, you have to be aware of any stereotypes and work around them in the initial years of your career. For instance, (and I apologize for any offence in the stereotype), if you are of Asian descent and you're really good at Gangsta Rap you might consider a band name or pseudonym to get noticed. But once you do get some attention you can and should immediately explain who you really are. My point is, it's about getting noticed. I'm not advocating any cultural appropriation.
Suad:
My advice would be to work hard and promote themselves well, and most importantly, to be unapologetic about who they are. Reach out to film directors whose stories mean something to you. There's nothing worse than working on a film that you don't believe in. And most importantly: have confidence in your talent and abilities and carry that confidence with you all the time. Again, I am not sure I am the right person to give advice to, say, a Black or Asian composer because my experience as a white Arab-European is extremely different, so I'm in no place to claim that I know what real racism looks like.
Jina:
Our number one priority is to stay active and keep creating. Practice. Press record. Record ourselves messing up. Build upon our repertoire. License our music and keep track of where it goes. We need to focus on learning more about the music business and educating ourselves as much as possible on licensing, distribution, marketing, and promotion. We must seek out organizations that can help us along the way (i.e. CMRRA, Re:SOUND, SOCAN, SOPROQ, SoundExchange).
Collaboration is key. It truly helps to have a solid support system. Part of that comes with us remaining humble, vulnerable, and asking for help from family and friends. It can be quite expensive to become successful in this business after all the gear purchases and time spent on learning the craft. Yet, there is an abundance of resources right at our fingertips.
Research. Find opportunities across the internet. Make opportunities for yourself. We need to take initiative and be at the forefront of change. When it seems like the industry is slowing down, write a script to write music to, and go from there.
Gagan:
What would you propose as potential solutions to industry executives across Canada? Or any suggestions?
Jina:
Leaders must find ways to cultivate and maintain equity in the industry. Media and social media have been successful in bringing systemic and blatant racism to the awareness of people of all colours and creeds across the globe. Now, we must bridge the gaps within our communities with governance. Could industry executives across Canada ensure that the list of BIPOC composers is widely available to the public, public policy analysts, scholars, academics, non-profit organizations, and community organizations? How about we welcome free mentorship programs with incentives for mentors to teach benevolently? And, what if these mentors are established composers of colour hired to teach emerging composers of colour? Well, then I would propose implementing free education, seminars, and workshops regularly.
Darren:
I'm torn, and I think my opinion is evolving.  I used to be fervently against any sort of quota or affirmative action (for a lack of a better term).  It was similar to me being reluctant to search out specific "person of colour" publicity or PR.  As I get older and continue to see the industry being dominated by older straight white men, I realize that if we want the stories that the screen industry tells to reflect the society that we live in, we have to do something outlandishly different.  I'm a big fan of the way the Academy of Motion Picture Arts and Sciences mandated concrete diversity actions in order to be eligible for the Best Picture category and think it's an incredible step forward.  It's controversial as hell, but in my mind it's the first concrete step. Nobody is preventing you from making the movie you want to make, but if you want to be up for the Oscar, the drive to embrace inclusion and diversity has to be spoon fed to some producers.  The industry has done a lot of mentorship programs, which are great, but quite frankly, it hasn't changed too much in terms of diversity and inclusion.  I'd love to see the Canadian Screen Awards and perhaps even the funding models pursue some sort of diversity point system.
Amin:
I think it's good that we are seeing various organizations and institutions giving persons of colour chances that were never given before. But what I'm really looking forward to is the day where all of this doesn't matter. I'm a huge advocate for systems where the personal info is not revealed during the hiring process. I know in orchestral auditions there is a screen placed in front of the adjudicators so that there is no bias based on the physical appearance of the person. I would love to see that more in the composition hiring process and even in awards submissions.
These are optimistic and challenging times, but I do believe that for every step backward we are taking two steps forward.
–
*****************
Screen Composers Guild of Canada – 40th Anniversary


Remembering

Ben McPeek

: SCGC Founder (1934-1981)
The SCGC was founded in January 1980, originally as the Guild of Canadian Film Composers (GCFC), by composer and jingle producer Ben McPeek. The GCFC Letters Patent was signed by Ben, along with composers Harry Freedman and Glenn Morley, (SCGC past-president and current Board of Directors member).
In tribute to Ben's foresight and legacy, we would like to shed light on his contributions to creating what is today – 40 years later – your Screen Composers Guild of Canada.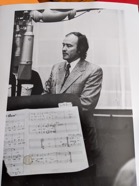 BEGINNINGS
Ben McPeek was born in 1934 in Trail, British Columbia. During his teenage years he became an accomplished musician and when faced with the decision of where to pursue music professionally – Hollywood or Toronto – he chose Toronto. He started his career as a pianist performing with various Toronto dance bands, then worked with the CBC recording music projects and albums in Toronto and through the Music Makers Studios in New York City.
Following early strides in musical theatre, McPeek's musical growth and diversity really blossomed when in 1964, he established Ben McPeek Ltd. in Toronto. His company would provide musical jingles for many major international clients. Ben became known as the "Jingles King" – writing over 2,000 jingles throughout career. He also opened a second studio, Captain Audio, to record demo tracks for projects. (The idea of a personal recording studio was unheard of at the time).
For Canada's centennial, McPeek created orchestral arrangements for the song Ca-na-da, composed by Bobby Gimby. Ca-na-da became a runaway smash hit for Quality Records and over the next few years the recording sold half a million copies. Many other projects were brought to fruition by Ben and partners, including the legendary Nimbus 9 record label and recordings of The Guess Who with now legendary producers Jack Richardson (Bob Seger, Max Webster) and Bob Ezrin (Pink Floyd, Alice Cooper).
Ben also founded the Imperial Oil McPeek Pops Library in cooperation with the Canadian Music Centre. At the time, there was an overwhelming number of American pop songs on Canadian orchestral pop set lists, and the library was Ben's solution to ensuring more Canadian content was featured. The library consisted of hit Canadian/Quebec pop songs that included Ca-na-da, Snowbird and Tears Are Not Enough, as well as medleys associated with Stompin' Tom Connors and The Guess Who. Robert Farnon, Milan Kymlicka, Bob McMullin, Eric Robertson, Paul Ruhland, Brian Sexton, Francois Dompierre, and Rick Wilkins were among the contributing arrangers for the library. Although Ben was the originator of the library, it was left to composer Victor Davies to execute Ben's vision when he passed away.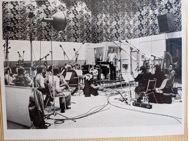 RISING TIDES LIFT ALL SHIPS
In the late 1970's, Ben wanted to form an association that could demonstrate to the film and television industries that first-class scores could be composed and recorded in Canada. By bringing together people who had a stake in the scoring business, the Guild of Canadian Film Composers would help draw attention to the talent available in our country and would advocate for hiring locally. They also helped make film and television executives aware of the incentives that go along with hiring Canadian. This 'rising tides lifts all ships' philosophy – or the idea of thinking collectively in order to help the community and in the long run help the individual – led to more people being hired locally and the Canadian scoring industry taking root.
Concurrently, Glenn Morley, SCGC Board of Directors Member, was beginning his long scoring career mentoring under Lou Applebaum and was Secretary in the early Guild era. Glen notes that Ben McPeek had a keen foresight into the value of a creative business community and of a culture of support between composers. Ben's strong benevolence extended to financially assisting emerging composers with startup capital for their own businesses in order to nurture competition and strengthen the music community as a whole. The idea of the GCFC was that it was just one part of an even larger strategy of building a Canadian controlled Music Production industry. To that end, Ben treated what most would have considered to be his 'competitors' in a limited marketplace as colleagues, thus building a first-class industry.
MEMORIAM
Although Ben McPeek passed away unexpectedly in January 1981 in Toronto – a huge loss to the scoring scene in Canada – the McPeek family immediately started the
Ben McPeek Scholarship Fund in 1983 at the University of Toronto, Faculty of Music.
The McPeek Scholarship is still awarded to an outstanding student in their second or third year of the composition program.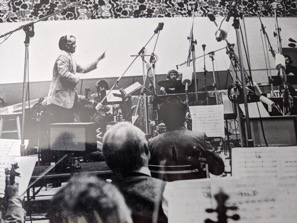 THE SCGC TODAY
In the mid 1990s, the Guild created a new mandate "to improve the quality and status of music as it applies to film and television, through education and the professional development of its members and the producing community."
During this period, professional development took on an informal structure, with members exchanging information, providing knowledge of contracts, potential jobs and negotiation tactics. The Guild also created a Composer (As Contractor)/Producer Model Agreement, which has become a standard in the industry.
In 2010, the Guild of Canadian Film Composers changed its name to the current
Screen Composers Guild of Canada to reflect the shift in the film and television industries that now included media for both large and small screens, as well as changes in its members' working environments and skills.
Today, Ben McPeek's legacy of community and support between composers can be felt in the SCGC as we continue to strive for improved marketplace value, to advocate for composers' rights, and to advance our members' knowledge with initiatives such as the Mentorship Program, regional information seminars, online podcasts and composer interviews, together with the popular Member Discuss List and List Archive.
Article compiled by Nicholas Stirling, with contributions from Glenn Morley and Victor Davies.
Special Thanks to Ben McPeek Jr. and Jerome McPeek for their invaluable personal insights.
Photos Courtesy of the Ben McPeek Estate © All Rights Reserved. Used by Permission.
–

********************
Composer

Spotlight

:

Medhat Hanbali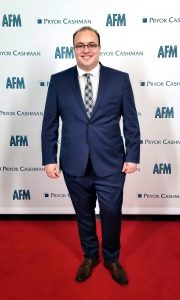 Home Base: I'm based in Montreal, Quebec
Instruments Played: Piano (Classical and Jazz)
DAW of choice and favourite feature:
Nuendo. I particularly love the different track visibility configurations. You can assign shortcuts to only show the tracks that are currently playing, hide unused tracks, show tracks per instrument family, etc. This feature is a huge time saver and helps avoid infinite scrolling in large templates.
Favourite score and/or composer, and why:
Harry Potter and the Prisoner of Azkaban by John Williams. The themes are very strong and highly effective from a storytelling point of view. This soundtrack showcases Williams' mastery of music genres through classic Hollywood, medieval, waltz and even jazz cues.
Most recent accomplishments:
After completing season 3 of Teletoon's animated series 'Mouvement Deluxe', I scored 'Once Upon a Sea', a VR Documentary that just premiered at the Venice International Film Fest. I'm currently producing a new pop album for Genevieve Leclerc (Les Miserables, The Voice) and have a few films and TV projects lined up for the upcoming months.
Hobbies and pastimes:
I love listening to biography audiobooks and podcasts. I highly recommend 'Blockbuster' by Epiclef Media to film enthusiasts.
Best piece of advice:
Film composers are filmmakers, not just musicians. We have a similar responsibility as production designers or cinematographers when it comes to storytelling and shaping the film experience. Learning as much as possible about filmmaking make us better collaborators.
Member News


April 6th-September 27th  
Compiled by Elizabeth Hannan
–
Events & Appearances

– The Score Study "Decoding the Music to The Matrix Part 2" was hosted online on September 18th
–SOCAN hosted an online town hall with the SCGC
–Sarah Slean hosted an online concert on June 19th.
-Awards Daily News interviewed Darren Fung about his score for 'Equus: Story of the Horse'.
– Darren Fung was part of the 'film school Friday' panel put on by the Motion Picture Association celebrating Asian American and Pacific Islander Heritage Month.
–Steve London gave a master class with The Den Collective, Inc. on May 22nd.
-The SCGC hosted a Virtual Social on May 12th on Zoom.
-The SCGC hosted a public Zoom conversation where Darren Fung spoke with 3 of Canada's mid-career screen composers on April 27th.
-The SCGC hosted an AMA live stream with Simon Franglen on April 21st. Gagan Singh moderated the event.
-The SCGC hosted a Virtual Social on April 14th on Zoom.
–
Awards and Recognition
–
SOCAN Awards
Michael Plowman – Achievement in Made-For-TV Movie Music Award, The Wrong Babysitter
Christopher Nickel – Achievement in Made-For-TV Movie Music Award, A Gift To Remember
Robert Carli – Domestic Television Music Award
 (Fiction Programming), Murdoch Mysteries
Keith Power – Domestic Television Music Award
 (Fiction Programming), Hawaii Five-0
Murray Fleming – Domestic Television Music Award (Non-Fiction Programming), SportsNet Central
Greg Fisher and Derek Treffry – Domestic Television Music Award (Non-Fiction), Border Security: Canada's Front Line
Ian LeFeuvre, Ari Posner, Chris Tait – Domestic Television Music Award (Animation), Johnny Test
Ken Myhr – Best Original Music, Non-Fiction The Accountant of Auschwitz
Amin Bhatia and Ari Posner – Best Original Music, Fiction (TV), Anne with an E
Nominations
Howard Shore – Achievement in Music – Original Score, The Song Of Names
Peter Chapman and Leslie Seaforth – Achievement in Music – Original Song, Riot Girls
Robert Carli – Achievement in Music – Original Score, Lie Exposed
Stephen Krecklo and Ian LeFeuvre – Achievement in Music – Original Score, James vs. His Future Self
Todor Kobakov – Best Original Music, Fiction, Cardinal
Ari Posner and Ian LeFeuvre – Best Original Music, Fiction, Carter
Tom Third – Best Original Music, Fiction, Coroner
Trevor Morris – Best Original Music, Fiction, Vikings
Amin Bhatia and Ari Posner – Best Original Music, Animation, Let's Go Luna!
Todor Kobakov – Best Original Music, Non-Fiction, The Guardians
Jesse Zubot – Achievement in Feature Film Music Award, Indian Horse
–

SOCAN Foundation Awards For Emerging Audio-Visual Composers
1ST Prize Winners:
Spencer Creaghan – Best Original Theme, Dog Cried Wolf
Iva Delic – Best Original Score, Animated, Dream Cream
Dillon Baldassero – Best Original Score , Non-Fiction, Zone Rouge
Spencer Creaghan – Best Original Score, Fiction, The House Abandon
2ND Prize Winners
Joey Reda – Best Original Score, Animated, Cycle
Claudie Bertounesque – Best Original Score, Non-Fiction, Mélissa et le Jackalope
Leo Awards
Blake Matthew – Best Music in a Motion Picture, Infeccion
Marcelo Trevino – Best Musical Score Animation Program or Series, The Last Kids On Earth
Christopher Nickel – Best Musical Score Documentary Series, Highway Thru Hell
David Parfit – Best Musical Score Feature Length Documentary, The Wild
–




Canadian Screen Awards
Winners:
Howard Shore – Achievement in Music – Original Song and Achievement in Music – Original Score
The Song Of Names
Ken Myhr – Best Original Music, Non-Fiction
The Accountant of Auschwitz
Amin Bhatia and Ari Posner – Best Original Music, Fiction (TV)
Anne with an E
Nominations:
Howard Shore – Achievement in Music – Original Score
The Song Of Names
Peter Chapman – Achievement in Music – Original Score
Riot Girls
Robert Carli – Achievement in Music – Original Score
Lie Exposed
Stephen Krecklo and Ian LeFeuvre – Achievement in Music – Original Score
James vs. His Future Self
Howard Shore – Achievement in Music – Original Song
The Song Of Names
Peter Chapman and Leslie Seaforth – Achievement in Music – Original Song
Riot Girls
Amin Bhatia and Ari Posner – Best Original Music, Fiction
Anne with an E
Todor Kobakov – Best Original Music, Fiction
Cardinal
Ari Posner and Ian LeFeuvre – Best Original Music, Fiction
Carter
Tom Third – Best Original Music, Fiction
Coroner
Trevor Morris – Best Original Music, Fiction
Vikings
Amin Bhatia and Ari Posner – Best Original Music, Animation
Let's Go Luna!
Todor Kobakov – Best Original Music, Non-Fiction
The Guardians
Michelle Osis – Best Original Music, Non-Fiction
The Corporate Coup S'Etat
Ken Myhr – Best Original Music, Non-Fiction
The Accountant of Auschwitz
–Erica Procunier scored Apple TV's Ghostwriter. The series won the Daytime Emmy for Outstanding Children's or Family Viewing Program.
Iva Delic and Elizabeth Hannan were music assistants on the series.
-The Canada Council for the Arts awarded Felipe Téllez the Digital Originals grant.
–Robert Duncan won 'Top Television Series' at the ASCAP Screen Music Awards with his score for 'S.W.A.T.'.
–John Sereda won 'Top Television Series' at the ASCAP Screen Music Awards with his score for 'When Calls The Heart'.
–Medhat Hanbali scored season three of Teletoon's 'Mouvement Deluxe'. The series won Best Animated Series at the Santa Monica Webfest.
–Elizabeth Hannan scored, mixed, and created sfxs for the series 'Zahara: The Return'. The series won 'best sound' at the Gold Movie Awards and was released on Amazon Prime Video.
–
Premieres and Screenings
– 'Joey Boy' premiered at the Austin Comedy Film Festival on Sept 13th. David Federman scored the film.
-'Cottagers & Indians' premiered on CBC on July 4th. Janal Bechthold scored the documentary.
–Erica Procunier scored 'The Dancing Dogs of Dombrova'. The feature film was released in the US and Canada on September 22nd.
–Janal Bethchold Scored 'Best Friends Forever'. The short film screened at the Breakthroughs Film Fesitval on June 27th.
–David Federman scored 'Haru's New Year'. The film screened on May 10th as part of the Japanese Canadian Cultural Centre's Virtual Film Series.
– Janal Bethchold scored 'Brave Little Army'. The film screened at the Festival de films feministes de Montreal on May 1st.
–Elizabeth Hannan scored 'Finding Harold'. The short film screened at the Lavassa Drive In Film Festival in Toronto.
–


Other Releases and News


–



The Screen Composer's Studio (Podcast)


Hosted By Adrian Ellis



-Episode 6 featured Judith Gruber-Stitzer
-Episode 5 featured Maxime Goulet
-Episode 4 featured Tom Third
-Episode 3 featured Darren Fung
-Episode 2 featured Mark Korven
-Episode 1 featured Amin Bhatia
–

*******************
–
-Schitt's Creek won many awards including "Outstanding Comedy Series" at the 2020 Emmy Awards. Maribeth Solomon scored the series.
–Michel Cusson produced a series of YouTube videos where he performs pieces that are created through improvisation.
–Sophian Alkurdi released the album 'States of life'
–Trevor Morris hosted an AMA about mixing for film on August 24th.
–Janal Becthold scored 'Terrorarium'. The game was released on July 28th and was showcased as part of the MonsterVine's Hot Summer Showcase event.
–Suad Bushnaq was commissioned by the Vermont Symphony to compose a cello concerto.
–David Federman arranged and orchestrated the score for 'Back and Forth: The Musical'. The abridged version of the music was streamed as a part of the online Toronto
Fringe Festival.
-An article in SOCAN's online magazine discussed how COVID has affected screen composers (as of early July). The article featured Jeff Danna, Amin Bhatia, Ari Posner,  
Lesley Barber, and Amritha Vaz.
–Erica Procunier and Iva Delic scored 'Lockdown'. The series was released on YouTube Originals.
–Sophian Alkurdi released the EP 'My life in a movie trailer' on June 22nd.
–Anthony Wallace scored 'Red Rover'. The feature film was released online on May 12th.
–Julijana Hajdinjak scored 'My Home, My Life'. The series is on TVOKids.
-Season 1 of Detention Adventure played on CBC Kids on April 11th. Erica Procunier, Antonio Naranjo, and Elizabeth Hannan scored the series.
*************************

–
We welcome your suggestions for story ideas!
Email the Guild: info@screencomposers.ca

Cue Notes:
Virginia Kilbertus: Editor
Nicholas Stirling: Layout, Web
Tonya Dedrick: Admin