Vol.1 No.2 Summer 2013
with Marvin Dolgay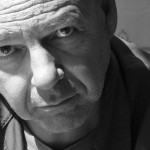 In our last Cue Notes, I officially announced the SCGC's ratification of the Framework Alliance Agreement with the DGC. This alliance is part of our strategy to strengthen and stabilize the "front end" portion of composer's revenues. However that, as you know, is only half the story.
The other half of the story is that broadcasting models are moving to the digital space with lightning speed. Our "back end" revenues are eroding as copyright legislation has handcuffed SOCAN's ability to collect revenue in that space and as publishers (some who are owned by studios and broadcasters) are direct licensing their catalogues. All this has put our back end revenue streams (good pun actually) and potentially our collectives themselves in jeopardy.
As many of these issues are complicated and more global in nature, your board authorized me to explore positioning the SCGC within a larger music creator framework. I would now like to report to you the result of a year's worth of constructive relationship building, document sharing, letter writing and (if I may) brain taxing work.
I am very proud to say that at the World Creators Summit in Washington in early June, I signed a charter document on behalf of the SCGC, along with the Songwriters Association of Canada, the Songwriters Guild of America and the Songwriters Guild Foundation, to create Music Creators North America (MCNA) and launch the "Fair Trade Music" initiative.
SPACQ, due to timing issues, was not available to sign the founding charter but by every indication it seems they will and may even have done so by the time you are reading this. The Canadian Music Centre's Board is being briefed and Ashley Irwin, the new president of the Society of Composers and Lyricists (SCL), our equivalent "screen composers voice" in the U.S., joined us in Washington as well. I am happy to report that the SCL board approved signing on to our MCNA charter at their recent board meeting.
In addition, the year's worth of talks culminated in Washington with the further announcement that a network of alliances between Music Creators North America (MCNA), the European Composer and Songwriter Alliance (ECSA), the International Council of Creators of Music (CIAM), the Pan African Composers and Songwriters Alliance (PACSA) and the Alliance of Latin American Creators of Music (ALCAM) had been formed. All alliance members have endorsed the Fair Trade Music initiative, and documents and letters in total support of the collective rights management system have been signed. It should also be noted that the MCNA has accepted a seat on the CIAM executive committee, a first offered a non-PRO member. (Stan Meissner, president of SOCAN, is also on the CIAM ExCo). Open lines of communications and working groups on various issues have been struck, while documents and letters of support and representation have been created in a very short and intense time.
I'm very proud to report that the SCGC is now a respected, trusted and integral voice within the MCNA and these broader alliances. This is a vital and huge first step. We are now taking ownership of the music creator message in order to speak to and represent OUR interests within the extensive value chain that has been built on our creations.
As our "Fair Trade Music" and alliance press release (which made the Wall Street Journal, btw) says, " … We have embarked on a new course designed to ensure that the voice of the music creator is heard throughout the world.  We think for ourselves.  We act for ourselves.  And we speak for ourselves.  We have many partners and allies, but ultimately, we take responsibility for our own futures.  That is the new narrative, and it will be pursued in our own voice."

ANNOUNCING THE "FAIR TRADE MUSIC" INITIATIVE, WORLD'S SONGWRITERS AND COMPOSERS UNITE TO FORM A GLOBAL ADVOCACY NETWORK
Washington, DC, June 3, 2013:  For the first time in music industry history, over 25,000 songwriters and composers from nearly fifty countries throughout Europe, North America, South America, and Africa have joined together to form a new, wholly independent advocacy Network for music creators.  Its immediate goal will be the championing of a set of Fair Trade Music Principles designed to ensure transparency, fair compensation, and autonomy for music creators in an increasingly complex and non-transparent music business landscape.
The new group, characterized by its founders as a "Network of independent alliances," will serve not only to support advocacy for music creator rights throughout the world, but as a source for the gathering, analysis and distribution of international legal and business information crucial to songwriters and composers. The founding members of the Network include the European Composers and Songwriters Alliance (ECSA), Music Creators North America (MCNA), the International Council of Creators of Music (CIAM), the Pan African Composers and Songwriters Alliance (PACSA) and the Alliance of Latin American Creators of Music (ALCAM).
As its first united action, the new Network has announced the international launching of its Fair Trade Music initiative. According to the group, "more than any other sector of the music community, the songwriter and composer community has been hit the hardest by the catastrophic losses that have financially decimated the music industry since the beginning of the 21st Century.   Our Network recognizes the drastic need for music creators to independently analyze the reasons for these devastating setbacks, devise solutions that benefit creators as the bedrock of the music industry, and advocate for the implementation of those solutions with our own voices.  The initial result of this process has been the formulation of the Fair Trade Music Principles, which provide a framework for ensuring that music creators can survive and flourish in the future, to the benefit of individual songwriters and composers, consumers, and culture in general.  It is those principles that we have come together to champion."
The Fair Trade Music Principles are as follows:
1. FAIR COMPENSATION — Music business models must be built on principles of fair and sustainable compensation for music creators.
2. TRANSPARENCY--International standards must be developed and adopted that ensure efficient and transparent management of rights and revenues derived from the use of our works. These standards must apply to all entities that license such rights, and which collect and/or distribute such revenues.
3. RECAPTURE OF OUR RIGHTS–Music Creators must have the ability to recapture the rights to their works in a time frame no greater than 35 years, as is currently available to songwriters, composers and artists in the United States.  The effect of recapture of rights must apply globally.
4. INDEPENDENT MUSIC CREATOR ORGANIZATIONS–Music Creators must have their own independent entities that advocate for, educate and provide knowledgeable support for members of their community, including aspiring songwriters, composers and artists.  Music Creators speak for themselves, not through those with interests in conflict with them.
5. FREEDOM OF SPEECH–Music Creators must be free to speak, write and communicate without fear of censorship, retaliation or repression in a manner consistent with basic human rights and constitutional principles.
While the Fair Trade Music Principles are general in scope, the Network has already begun to engage in specific activities designed to address current and developing problems for music creators.  These include advocacy in favor of the system of "exclusive assignment" of performing rights in musical works to performing rights organizations outside of the United States, opposition to non-transparent, direct performing rights licensing agreements currently being undertaken in the United States, and support for more robust and creative approaches to addressing the continuing, drastic problem of music theft.

Trevor Morris Interview
by Darren Fung 
Walking into Trevor Morris's Santa Monica studio is enough to make any seasoned composer drool.  It's a beautiful workspace with some incredible gear and his walls are lined with posters and accolades from the various projects he has worked on, but there's something refreshingly humble about the man, who took a couple of hours to talk to Cue Notes about his career in September of 2012.
DARREN FUNG: Tell me a little bit about your childhood and your early musical training.
TREVOR MORRIS: I grew up in London, Ontario and went to a Music School for the Arts called St. Mary's.  We studied strings and choir every day from grade four or five to grade eight. Our graduating year, I wrote a piece for piano and four-part choir for my class to honour Pope John Paul II visiting Ontario, which was a huge deal when you're in Catholic School. Ultimately, they wouldn't let us sing for the Pope because of security reasons, but we recorded it for him and it was my first point of entry into composing at 13 years old.  I got into taking private piano lessons after that.
DF: Wikipedia says that this was a defining moment in your life. How did you move from writing for the Pope as a child to doing it professionally?
TM: I abandoned classical music for a long time when I went to high school.  Everyone who was in the band had just started playing their instrument. I'd been singing and playing cello, violin and bass for years. I asked to be put in the senior band, which was more at the level of my musicianship and they wouldn't let me. Not to be snobby, but I had been pressing my butt off for a long time. So instead I gave up classical music and just started a rock and roll band and playing keyboards and bass guitar through high school.
When it was time to graduate, I could have either gone to (the University of) Western (Ontario) to study music, which to me meant becoming a music teacher, which I didn't want to do, or go to Fanshawe, which was more of an applied arts thing.  They had a very prestigious recording program, which I went to, that got me into a role in the recording studio side. I moved to Toronto when I was 18 or 19 to join the recording studio environment as an Assistant Engineer. That was my point of entry into the business.
DF: What was Fanshawe like? How relevant or not relevant was that to what you do today?
TM: All those engineering and technical skills served me so well. Not all composers are technically minded when it comes to engineering, and I am because of that background and I'm so grateful for it. However, there was no composing involved in that education – it was purely record production and recording and engineering and mixing.
DF: Right out of school you landed a gig writing music for commercials – how was that and what lessons did you learn? Can you talk a little bit about that?
TM: Basically I was an Assistant Engineer turned Engineer in the very robust Toronto recording scene. The core business in Toronto was – and probably still is to a certain extent – jingles and commercials.  My daily ritual was to watch commercial production happen. I got to watch the composers of commercials come in with these big racks of equipment and they had all the right musicians and they were the coolest guys in the room to me. It got my interest back into composing in my early to mid twenties. The engineering side led to working on the commercial side, which led to becoming a jingle composer, which is where I really cut my teeth.
DF: Can you talk about some of your mentors in Toronto and what you may or may not have learned from them?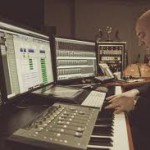 TM: I had an engineering mentor, Kevin Doyle, who was the Chief Engineer who taught me a lot of life lessons and was a very talented Engineer.  Terry Riley from Pirate Radio rings a bell – we still keep in touch and we're still friends. After I decided that commercials weren't long enough and that I wanted to write TV and film music, Amin Bhatia gave me really what was my first break in the TV world. He had a series that he needed some help with and he was very open about championing me to the producers as a co-composer.  Everyone was on board with it and it was a great little science fiction show called Coding Maternity.  It was a huge deal for Amin to take a chance on a younger composer, and we had a ton of fun. We split each show, and decided who did what cue, and there were 22 episodes of it. I'd never done a television show before, so that was really my jump with both feet into the deep end.  I have a huge affection for that show and respect for Amin for having taken a chance on me when he didn't have to.  I forever feel grateful for people in my life who've made choices that really helped shape where I am.
DF: When and why did you decide to leave Canada and what was that process like for you?
TM: I was approaching 30 and it was sort of one of those moments where I realized I want to write TV and film. And to be honest, I was having a hard time breaking into the Toronto scene, which is very tight knit.  You had a few guys – who I admired greatly – but they were doing the majority of the work and there wasn't much room for new guys.  This was in 1999, and I had decided that this was what I wanted to do with my life.  So, why didn't I move to where the work was, which was Los Angeles?  If I didn't do it then I might never do it, and I might regret it.  So I kind of just made the choice to go. It was really that simple.
I remember I told Amin and a few other friends of mine. I had a big declarative, "let's have a drink I have big news to tell you". And that was it. I packed up, I sent my gear and I moved myself to Los Angeles in 2000 with no plan other than I knew enough Canadians in town to not know nobody. And Canadians always help each other and a few select people really helped me.
DF: How were those first couple of years in Los Angeles?
TM: My first year and a half was really hard, really tough. And what got me through it was, in our world, a famous voice-over actor in Toronto named Rita Romano.  She said, "my biggest piece of advice to you is, don't let the town of LA beat you down, because it tends to make your first year hellish." Not for everybody but just as a general rule. A lot of people come to LA thinking they're a hotshot, or that they were good at what they did before they moved here, and they realize the competition is tenfold or a hundredfold. So my first year and a half were pretty bleak, pretty grim, in terms of work anyway.
DF: How did you end up working with Hans Zimmer at Media Ventures?
TM: This is where my Fanshawe background actually broke me in. I got recommended to an engineer, Jim Hill, who was working for James Newton Howard, who is still a friend.  Jim needed an assistant engineer because theirs was sick.  James Newton Howard is one of my idols, so to work for him, I was jumping up and down on the bed happy about this.  I worked for James for 2 or 3 months, and I asked him to let me work for him full time.  At the time he didn't have a position for me, but Hans had a position open up as a Technical Supervisor.  Hans heard that I worked for James, and Hans pretty much offered me the gig on the spot. I was the right fit for the job at the time. Obviously Hans is an icon and all that, but beyond that, it put me into the eye of the storm.  It brought me from Canada, to being at the epicentre of $100 million movies as a part of daily life, which was what I wanted.  So I'm really grateful for that time in my career.
DF: How long were you at Media Ventures?
TM: On and off I'd say 6-7 years, something like that.  We all keep in touch.  Anyone who worked for Hans and has lived to tell about it, you're like blood brothers!
DF: What's your shop like? You have a large number of shows going on, and a large number of projects going on at any given time. What do you do, what do you focus on personally and then what do you have your assistants or your team do?
TM: I just built the studio that you're sitting in, which is my dream space, last year. I found that in Toronto, everybody works in a facility or a collective. If you're a composer or an engineer or a producer you belong to some kind of a community for the most part. In LA, everybody works by themselves.  Everyone works at home or a different studio or they are geographically spread out. It's much different. I like working in a collaborative way, so the idea of working at Hans's place, albeit it was a very tough time in my life, felt familiar to me, because that's what I knew in Toronto. You walked down the hallway, you ran into people, you have a cup of coffee, that thing.
I wanted to build a studio to emulate that and have the workflow be the way I want it to be. So, I have a mixing studio at the end of the hallway, which has always been a dream of mine. I have a great console and I have a dedicated guy who works for me on the engineering side. I have a technical assistant who just does that – I'm big on technology so there's always something to fix. And then I have kind of a musical assistant who is kind of like a protégé, but it's too strong a word. I was in that position for a long time in my early days in LA and I know how much it benefited and shaped me. And I feel it almost incumbent upon me to have someone like that in my life. Of course it helps me too, but I like having someone around to train and mentor. It makes me feel good about myself and I think about all the people who helped me, and the list is long, and it feels like the right thing to do.
DF: If you were to all of a sudden put up an advertisement for musical helper or assistant, what would you be looking for
TM: The point of entry is always the technical assistant for me. Anyone who works for me starts there, which is usually based around the skill set of Pro Tools and knowing a sequencer. I use Cubase, the standard stuff, Kontakt Libraries, the tools of the working composer. That's where you start in my world. I always say learning a composing studio is like learning an instrument. It needs to be mastered and you need to become a virtuoso of this world first. You may be able to write like Brahms, that's great, but that's not going to help me if you don't understand the way I work which is highly interactive with technology. So the point of entry for me is always a technical assistant. My musical guy, Steve, was my previous technical assistant. He's been with me for 3 or 4 years and graduated up through the ranks.
DF: Can you talk a little bit about your composing process? You have a show come in the door, where do you start?
TM: I do two things simultaneously. I come up with a concept for the sound in my head.  I've had the great fortune of working on shows like The Tudors where I get to create a musical language from scratch.  I mould in my head the shape of the sound I want to hear, and then I start writing melodies. I try to write tunes for characters or ideas or stuff like that.  The concept, the big idea, melodic starting points – that's always my process. If it's an ambient score, that's different. I just finished a rock and roll score that's drums and bass guitar in which case I treb up my electric bass and distortion pedals.  But as a general ethos I guess, I try to come up with the big idea of what I want it to be, how it should feel esthetically, and then I start writing melodies.
DF: So in terms of your process with the rest of the team – you write some melodies, you mock them up and then where does your team fall into place after that? Your technical team – do they touch your cues at all?
TM: No, my cues are completely conceived and finalized all in my studio that you're sitting in. It's part of my time with Hans: the mock up is the holy grail for him, and that has stuck with me. So, my mock ups are very detailed and articulated.  They sound as good as possible so my technical assistant can split off each part properly.  My mixing engineer can then start to create the final touches. If I get into a situation where I've been given an unusually tight amount of time pressure by a client and it's not possible for me to do it, I'll bring in Steve and we'll sit down, I'll sketch out an idea, give it to him. Because he knows how I work, he's been with me for so long, I know that he can take a rough sketch and bring it to a place where I can be happy with it. And of course he's next door so I can sit down and I can polish it and do things that only I can do.
DF: The Tudors was a big pivotal moment for your career.  Can you tell me a little bit about that gig, how you got it?
TM:  Yeah, The Tudors was a game changer, a big turning point in my career. It was a Canadian co-production between Ireland and Canada so they were shortlisting Canadians. And when I lived in Toronto there were a certain number of Canadians living in LA who were getting Canadian work because the producers were in LA.  I'm not sure where this falls in the actual legal sense of the word, but we're talking the reality of our world. They needed a Canadian. I have a studio in Toronto that I would love to spend more time at that than I do. I flew down and I met the producer and I knew I was on the short list after the meeting.  I don't know why I got it but I did.  It became this great beginning of a collaboration with that team, which I've now been working with for eight years.  I would come to Toronto often, as it's posted at Tattersall Sound and Picture, which is in the same building as Pirate Radio where I worked before.  It made me very happy because it gave me a chance to come back home more than I normally would.
DF: A lot of Canadian composers would criticize the fact that you're in LA and the whole CANCON was designed for Canadians living in Canada. How do you respond to that?
TM: All I can speak of is my own experience which is when I was in my late twenties trying to break into the business.  Rob Duncan, who is a friend in LA and a very successful guy, worked for Lou Natale and had his own path to where he is now. I tried desperately to get work in Toronto or in LA that needed a Canadian and I kept losing to guys like Chris Beck or Mychael Danna, or other guys who could work in either Toronto or LA. I was not as successful as I wanted to be in trying to get my feet off the ground in Toronto.  If there are Canadians living in LA, and that's where they make film and television, I might as well go there and give it a shot.
I am and always will be Canadian.  I love Canada. At the time, I have to say for the record that I was annoyed that I had to leave because I loved where I lived.  I loved my life there and I was almost disgruntled in a way that I had to go to Hollywood to feel like I had a shot at bringing my career to the next level. Now that I've made the transition I'm very happy here. I'm married, I have kids, I live in Santa Monica, a mile from the beach and I have this beautiful studio. But at the time it wasn't Hollywood for me. It was just really going where the work was.
DF: How would you describe the Trevor Morris sound?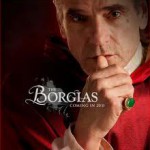 TM: I have no idea!  I can tell you that the historical drama thing – this cracks me up actually – has become my calling card that I'm known for doing because of The Borgias, The Tudors, The Pillars of the Earth and stuff like that. Before The Tudors I'd never done anything historical. I wasn't winging it, but I wasn't a Renaissance composer.  Those programs reached the widest audience for me, so more people have heard my music from those shows than anything else I've done. The truth is, in the context of all my work, it's a small percentage of what I've done, but it has the biggest audience.  So right now my sound is the historical drama thing.
DF: Your IMDb page shows your credits all over the place: feature film, television, video games. How did your career end up being so focused towards television?
TM: I'd like to say there was a grand plan, but to be honest, I'm just going where the work has led me. I enjoy all mediums. I enjoy video games a lot; they're a completely different headspace. I did a big movie last year called The Immortals which had a big monster budget. That was a ton of fun.  It's mostly about working on the best project I can, not so much being "I want to only do TV," or "I only want to do games."  I've been very lucky to do high-level television work, which is like working on a movie each week.  But I try to always make room for features. I try to do a couple a year, if possible.
DF: You still find time to do a lot of indie feature film stuff.  A lot of stuff can be pretty low budget, pretty un-lucrative. Why do you do it?
TM: Purely for the love it. I have a little triangle that I used to make my decisions about my career. One side is money: everyone's got to make a living. Second: is it an enormously high creative opportunity?  Last: is it a great relationship connection? So there's my little triangle. Somewhere in there I can move the vector around. A job presents itself and you and ask if it satisfies any one of these.  A perfect project would be all three.
I did a festival film last year called Beautiful Boy. It wasn't a freebie, but it was a "get-paid-a-dollar" sort-of-thing.  But I really liked the movie so creatively it was a chance to do something very small. They wanted a piano-driven score, which I love as a piano player.  In my little criteria it made sense for me.  I was very busy working on other stuff, so I said "Listen, you have no money.  Don't ask me to do it in 3 weeks, give me some time."  That's how I get it done when I'm busy doing other things.  It's not only about the money, it's not only about the credit. I do lots of things just because I like the director, or I know an actor in it and they ask me for a favour.  Or like all of us, I just want to keep working and pay the bills. Now that I have kids, my work has to also be fulfilling. I'd rather be at home and relaxing and decompressing. But, I have a hard time saying no, I'll admit that.
DF: Family and work. You've got young kids.  How do you balance it?
TM: It's tough. It's an ongoing thing. I can tell you that I work 7 days a week. I've never been able to get it down to less than that no matter how hard I try. But what I do better now is I don't procrastinate anymore.  I'm very focused, I come in around 9:00 in the morning, I work very hard, I don't surf the web much, unless I'm procrastinating for a creative brain break.
I know what my goal is for the day and I try to go home around 7 o'clock, have dinner with my kids and put them to bed. If at that point I'm not done my work, I'll be okay if I have to go back at 9:00 and stay until midnight. But those days are more rare than they used to be. I think it's also a reflex reaction to working so hard in my time with Hans, where it was16 to 18 hour days: 9 am to 3 am, every day, seven days a week, for months on end without a day off. After awhile you become a zombie and it becomes counterproductive.
DF: How did you land your first video game?
TM: My agent, Maria Machado from the Gorfaine/Schwartz Agency, took a shine to a few guys. Rob Duncan's one of them. She calls us "her boys", and she championed me through to Steve Schner who is the Head of Music at Electronic Arts here in LA.  Steve and Maria are friends, and she prides herself on bringing new fresh ideas and fresh people to Steve. So she introduced me, we got along really well and he wanted to work with me. He offered me Need for Speed Carbon, which was my first game.  It was a big Triple-A game, and I got it really without any video game experience. At the time I was working with Hans so that gave me some credibility, which helped. But at the end of the day I really credit Maria with connecting me with Steve, and Steve saying "I like this guy, I like what he's done, I'm going to take a chance on him."
DF: Can you talk a little bit about your relationship with Maria?
TM: There are four big agents at GSA and I have relationships with all of them. Maria, Cheryl (Tiano), Mike (Gorfaine) and Sam (Schwartz). Maria's been great: she and Cheryl really have been there since the beginning when I was nobody and I was number 94 on the list of 94 composers at GSA. But they've become good friends and, while I've been courted by other agencies, I'm really loyal to them. They're nice people and I really believe they have my best interests at heart.
DF: What is your dream gig?
TM: Space movie. I define my generation of composers by whether you saw Star Wars in the movie theatre or not.  I was seven years old in 1977 and whether you realize it or not, that "long time ago, galaxy far, far away" sticks to your DNA and never lets go.  That's my dream – it's on the bucket list for my career.
DF: Talk a little bit about what you're working on right now.
TM: Right now Season Three of The Borgias is in production and I will commence on that in earnest in mid-September, so I'm reading scripts, formulating ideas, talking to Neil Jordan (the creator) about where we're going this year, what we can do differently, how we can improve of course, and how to keep it fresh. So that's going on a lot in my mind. I have a new show that I've been signed on to work on that I can't talk about, but that's also an upstart, which is like getting a new language together. I did a long technical overhaul, which I do only in the summer. It's the only time you have a chance to do it, where it'll last me 6 months to a year, so we've been really been making big progressive changes at the studio. It's actually a great brain break for me because I get to go to my tech side for awhile, and then rebuild the palette and audition new string samples that I'll switch over to.
DF: If you were to give any advice to any young composer trying to get into the field today, what would you tell him or her?
TM: I've been asked this a lot. I really believe there are two main ways to become a successful composer, which is all I have to reflect on. One is: build your career one brick at a time, do a student film, and on you go, which is totally valid, but which is not what I did. What I did was became an assistant, an apprentice. I learned from someone who was already working. I happened to work for somebody big, which was great.
I recommend the route of going to work for a composer because you get to learn all the things that you don't get to learn in school.  If you go work for a composer you get what I call experiential learning, which is the sort of thing no one can teach you unless you actually do it. Sit in a meeting with a director, deal with colourful people; the things you only learn by doing. And if you're not doing those things when you're composing, how are you going to learn it? So, the catch-22 for me is solved by being an apprentice for a composer. My advice to someone who is starting is to get your technical skills together: Pro Tools, sequencers, learn how to make a sample library. Make yourself useful to someone who is looking to hire an assistant. Work for them and learn through the experience of being part of the role of a working composer.
DF: Last question.  Ask yourself a question and answer it.
TM: Where do I see myself in 10 years? The answer is probably spending more time in Canada if possible, and/or wine country. I'm a wine lover. I love Los Angeles and I love California, but my heart is pulling me toward Northern California. I don't know why. I've always described my perfect house as: you pull up to the front door in California, then walk out the back door and you're in Canada.  I miss being in Canada. I don't miss the snow, but in terms of the life balance I see myself trying to find a way as I get older to be closer to a wine world. It is a passion of mine.
Mechanicals, Neighbouring Rights and You
by Janal Bechthold 
Performance Royalties – the "Back End" on our contracts and the additional payments that pay our rent, upgrade our studio gear, or send our kids to college – have been a popular copyright discussion topic among composers for many years.  Lately there seems to be more attention being placed on a few other copyrights which certainly deserve more attention. Two of these rights that composers ask about frequently are Mechanicals and Neighbouring rights. Let's dig into what Broadcast Mechanicals and Neighbouring Rights are and why you should care about them as a screen composer.
***Disclaimer:  The writer is not affiliated with any collection society discussed in this article beyond personal membership.  Please note that composers/publishers or performers/producers may be able to join collection societies in other countries although this depends on the rules of each society and consideration should be given to language and amount of royalty earning activity in the territory. ***
Mechanical Rights are part of the bundle of copyrights that have remuneration (or a royalty) attached.  A mechanical right is the right to reproduce a musical work such as a song or a piece of a film score and is paid to composers, authors, and publishers of the music.
Mechanical reproductions aren't just your 8.3 cents per song per album anymore – in addition to CDs and DVDs, reproductions may also include midi renditions, digital downloads, Pay audio services, subscription audio on-demand streaming music services, ringtones, background music, karaoke disks, and television broadcasts. Wait, TV broadcasts?!  Yes!  There may be a mechanical royalty payable for broadcasts, often referred to as broadcast mechanicals.  Let's look at how broadcast mechanicals work and how to go about collecting them!
Collecting Mechanical Rights in Canada:
There are two organizations currently administering Mechanical rights in Canada: The Canadian Musical Reproduction Rights Agency Ltd (CMRRA http://www.cmrra.ca/) and The Society for Reproduction Rights of Authors, Composers, and Publishers in Canada (SODRAC http://www.sodrac.ca/).  CMRRA is an agency formed by a collection of music publishers to help them administer mechanical requests. Because of this, the CMRRA is publisher-centric and collects only for the territory of Canada.  SODRAC is a collective society which requires an assignment of rights (similar to SOCAN), has reciprocal agreements with other societies around the world, and accepts both publisher and composer / author members.  SODRAC has exclusive rights to collect and distribute broadcast mechanicals in Canada.
The broadcaster pays the Broadcast Mechanical royalty when a program is dubbed for broadcast.  In Canada, there are agreements in place with the CBC for English broadcasts and many French language broadcasters such as Society Radio-Canada, TVA Group, Illico, Télé-Québec, V, MusiquePlus-MusiMax, TV5, ARTV, the Astral Media TV network (channels include VRAK.TV, Télétoon, Canal D, Ztélé, Historia, Canal Vie and Séries+) and the TVA Group specialty channels: Argent, Yoopa, Mlle, CASA, TVA Sport, LCN, AddikTV and Prise 2.
Similar to SOCAN and performing rights, the amount of the royalties for broadcast mechanicals fluctuates.  In regards to other forms of reproductions, here is a chart that outlines the mechanical payments by use, issued by SODRAC.
http://www.sodrac.ca/Telechargement/Royalties%20summary.pdf
Did you know that SODRAC has had an agreement with iTunes since 2005?!
At almost any mechanical collection society there are three important pieces of documentation that need to be filed:  music cue sheet, a work declaration form, and your composer contract.  The contract is the most important piece of the puzzle as it ensures that the rights are collectable. The most common share split is 50/50, although SODRAC reports that they have seen splits that favour the composer. Something to keep in mind when reviewing contracts is that a publisher may collect the composers' share but the composer is unable to collect the publisher's share.  If you own your own publishing company you can actually save on paperwork by having your publisher collect and remit your composers' share to you.
Please note that broadcast mechanical royalties are not retroactively payable but are collectable from the date of membership.
TIP: if you're already a SODRAC member, keep track of your broadcasts on CBC/SRC and submit these broadcasts to SODRAC at the beginning of September to ensure royalty collection!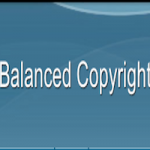 Unfortunately, the collection and distribution of Broadcast Mechanicals in Canada will be affected by the recent copyright modernization act Bill C-11.  Bill C-11 essentially removes the requirement for broadcasters to pay for reproductions that are no longer in their possession after thirty days.
To read more about Bill C-11:
http://balancedcopyright.gc.ca/eic/site/crp-prda.nsf/eng/home
Collecting Broadcast Mechanical Rights around the world:
There are reciprocal agreements in place between most of the mechanical rights societies for collection and payment of royalties.  Broadcast mechanicals are collected in several other countries in addition to Canada:  Austria, Czech Republic, Germany, Greece, France, Italy, Switzerland, The Netherlands, Portugal, and Slovakia.  The distribution rules of each society play a large part in what qualifies to receive broadcast mechanicals.  In general, cable television broadcasts are not eligible.  Italy distributes royalties for channels Rai 1, Rai 2, Rai 3, Canale Cinque, Italia Uno, and Rette Quattro. Likewise, France distributes royalties for channels TF1, France 2, France 3, Canal+, M6, Arte, and France 5.   In Germany, Switzerland, and the Netherlands, feature films originally made for theatrical distribution and broadcasts of non-Austrian productions in Austria are not eligible for broadcast mechanicals.
How much money can I expect to receive?
Lawyers and collection agencies would have you believe that the amounts for Broadcast Mechanicals would rival your performing rights payments from SOCAN, ASCAP, BMI etc. This is not quite the case in all territories.  The range of payments is on average from 5-45% when comparing against SOCAN payments for the same territory and broadcaster.
To ensure that payment is collected in other territories, it's a good idea to submit the same information to your mechanical collection society as you do to your Performing Rights Society: Country of broadcast, channel, any broadcast or release dates, and any translations of the program/episode titles in other languages. As always, keep an eye on your statements and make sure to follow up if you don't see a corresponding payment included with the appropriate pay period!
Neighbouring Rights are often referred to as Performers Rights because they give artists/performers and producers the right to receive remuneration from the broadcast, public performance, or private copying of sound recordings on which they had performed. The Canadian Copyright Board announcement last year stating that Neighbouring Rights would be able to be collected for parades, weddings, and a handful of other uses made a lot of people sit up and take notice.  Licensors were confused and thought they were being double taxed while many recipients of Neighbouring Rights had never heard of them, even though the royalty for this right was first legislated in 1997!
To be eligible to receive Neighbouring Rights, a sound recording must be made in a Rome Convention Country, by a company residing in a Rome Convention Country, or by an individual who is a citizen or permanent resident of a Rome Convention Country.
Here's the full list of participating countries: http://www.wipo.int/treaties/en/ShowResults.jsp?lang=en&treaty_id=20
Performers who appear on eligible sound recordings are able to receive Neighbouring Rights, no matter where they live, or their nationality.
Collecting Neighbouring Rights in Canada:
Re:Sound (formerly the Neighbouring Rights Collective of Canada (NRCC)) acts as an umbrella organization for distributing Neighbouring Rights in Canada.  They are the core organization for collecting the performance data and determining distributions.  Currently they collect royalties for the use of the performances included on sound recordings and distributed through commercial radio broadcasts, CBC Radio, pay audio, satellite radio, commercial establishments, radio communications, public performances of sound recordings, and CPCC private copying collections.
Re:Sound has allied with several other organizations for the distribution of Neighbouring Rights.  Performers' and musicians' royalties are distributed through MROC (Musicians' Rights Organization Canada), ACTRA RACS (ACTRA Recording Artists' Collecting Society), and ARTISTI (Union des artistes, Quebec). Producers' royalties are distributed through AVLA (Audio Visual Licensing Agency) and SOPROQ (Société de gestion collective des droits des producteurs de phonogrammes et de vidéogrammes du Québec).
Royalty payments are made annually and the societies are currently about to pay for performances in 2012.  The royalty percentages are typically paid based on the following share splits: Master Owner (Producer/Publisher) 50%, Featured Performer 45%, Non-featured Performer (Studio Musician) 5%. Of course these percentages are subject to further splits, depending on the number of musicians.
Did you know that Neighbouring Rights are paid out retroactively? In Canada you can collect these rights as far back as 1998! (Private Copying from 2000)
Collecting Neighbouring Rights around the world
The word on the street is that in order to collect international  royalties for Neighbouring Rights, you need to have a person on the ground in each country who represents your rights.  The number of Neighbouring Rights administration companies on the rise is a telltale sign.  Registering your copyrights with every country may seem like a daunting task but after interviewing each of the collection societies in Canada, it seems like the collection process is improving around the world and might make the need for representation optional.
Each of the Neighbouring Rights organizations in Canada has reciprocal agreements internationally, and ACTRA RACS reports that the number of international agreements has increased substantially over the last couple of years. Two years ago they had 5 reciprocal agreements and today they have 20! As each collection society has negotiated their own international agreements, it is advised to research which territories they represent before selecting a society for membership.  It may also be possible to establish a limited territory agreement for collection in specific countries.
Here are links that list each collection society's international agreements:
ARTISTI: https://artisti.ca/UDA-la-culture-est-une-force-redevances-internationales-644/artisti
ACTRA RACS: http://www.actra.ca/racs/?page_id=16
MROC: http://musiciansrights.ca/royalties/international-distributions
AVLA does not list any agreements
SOPROQ mentions that they are investigating international agreements with one already in place in regards to videograms broadcast by Paris Première.
You may have noticed that the USA is not a signatory to the Rome Convention and be wondering why there are reciprocal agreements for the USA included in the above lists.  The Digital Performance Rights in Sound Recordings Act of 1995 made provisions for a public performance royalty in sound recording for non-interactive digital transmissions to be payable! In the USA, payments are made through Sound Exchange, and AFM & SAG-AFTRA for satellite radio, Internet radio or other streaming service where the customer cannot pick the song, rewind, or repeat the song such as Pandora.
How does this relate to Screen Composers who perform on the recordings of their scores? 
In Canada, screen composers can enjoy royalties from neighbouring rights if our music is included in a commercial radio broadcast or other qualifying performance.  As for collecting royalties for film and television broadcasts? We'll need to sit tight and wait for the copyright board to approve an appropriate Neighbouring Rights tariff first.
The World Intellectual Property Organization has created the Treaty on Audiovisual Performances (also known as the Beijing Treaty on Audiovisual Performances, adopted by the Diplomatic Conference on the Protection of Audiovisual Performances in Beijing, on June 24, 2012) that aims to provide the same level of protection to performers for audiovisual performances as currently provided for sound performances.  Specifically addressed is a set of minimum standards and remuneration for performances, and ensuring those rights work within the digital environment. http://www.wipo.int/treaties/en/ip/beijing/  It may be important to note that for the purposes of this treaty "performers" are "actors, singers, musicians, dancers, and other persons who act, sing, deliver, declaim, play in, interpret, or otherwise perform literary or artistic works or expressions of folklore."  This does not necessarily cover soundtracks, but is an indication that the international community is discussing these very important issues. The Beijing Treaty on Audiovisual Performances is now open for signing by member states of WIPO and is not currently in force.
Creating a new WIPO treaty is not a fast process. Negotiations for the BTAP at the international level began in the 1990's!
Outside of the treaty, there are only a handful of European countries whose laws specifically include the right of audiovisual fixation (the sound recording included in an a/v work). These are Spain, Belgium, Croatia, and Germany.  Of these, only Spain collects a significant amount each year for audiovisual fixations, around 19 million Euros annually. Germany currently only collects for music videos, and Belgium and Croatia have yet to put this type of collection into practice.  Two additional societies, Czech Republic and Sweden, have laws that don't specifically include audiovisual fixations but the societies have included exclusive right for broadcasting and communication to the public included under contracts with right holders and for music videos.  (This information may not be conclusive or include all societies due to the changing nature of international copyright)
As for collecting these international royalties through Canadian collection societies, the process is a little messy.  One Canadian society admitted that the paperwork for audiovisual productions is a challenge as their computer system is only designed to track song title, artist, recording studio and maker.  They all agreed that if a performer has specific international claims, that they should submit the broadcast details and a cue list that contains a list of all performers for each cue.
Hopefully as the awareness of Neighbouring Rights increases, the collection process and the copyright legislation will grow to include more opportunities for screen media music performers and producers!
Additional Reading:
http://www.bemuso.com/musicbiz/musicroyaltycollectionsocieties.html#royaltycollectionsocieties
http://blog.tunecore.com/2012/07/neighboring-rights-what-they-are-why-they-matter.html
http://www.iposgoode.ca/2012/07/resound-v-mptac-scc-upholds-copyright-boards-decision/
http://musicandcopyright.wordpress.com/2012/07/25/big-differences-in-splits-for-digital-music-performance-and-mechanical-rights-in-eu-27/
http://www.twobirds.com/English/News/Documents/Music_Licensing_and_Collecting_Societies_Draft_EU_Directive.html
http://www.wipo.int/treaties/en/ip/wppt/summary_wppt.html

The SCGC presented the panel "Great Films Need Great Music" recently at the DOC Toronto audio conference. The discussion was led by composer John Welsman, and featured top documentary composer Mark Korven and filmmaker Michèle Hozer. They discussed their many collaborations and how filmmakers and composers can work together more effectively, including some great tips on how filmmakers can overcome temp love! As the final session of the conference, a gorgeous duduk solo sent sound professionals and filmmakers on their way, a beautiful and fitting way to end the day!
The SCGC presented the panel "Great Films Need Great Music" recently at the DOC Toronto audio conference. The discussion was led by composer John Welsman, and featured top documentary composer Mark Korven and filmmaker Michèle Hozer. They discussed their many collaborations and how filmmakers and composers can work together more effectively, including some great tips on how filmmakers can overcome temp love! As the final session of the conference, a gorgeous duduk solo sent sound professionals and filmmakers on their way, a beautiful and fitting way to end the day!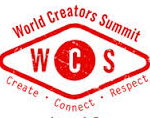 Our President, Marvin Dolgay, attended The World Creators Summit early in June, on behalf of the SCGC as the representative to the Music Creators North American Alliance group.  Formerly the World Copyright Summit, this event aims at establishing a constructive dialogue, exchange ideas, debate diverse view points and discuss the remedies linked to intellectual property and creative content online with all the stakeholders in the new digital economy.  The Fair Trade Music Initiative is just one of the positive outcomes of this year's summit. With this initiative, the world's songwriters and composers have united to form a global advocacy network.
Read more here:
http://online.wsj.com/article/PR-CO-20130604-903736.html?mod=googlenews_wsj
Awards and Nominations:
The nominees for the 2013 Prix Gémeaux Awards have been announced! Best wishes to member Serge Côté who has been nominated for Best Musical Theme: All Categories for Les Bleus de Ramville: Fin de cycles et renaissance.
http://www.acct.ca/prixgemeaux/finalistes/metiers/
Robert Duncan scored the ABC show "Last Resort". His score was recently nominated for a Hollywood Music in Media Awards for Best Score – TV Show/Digital Streaming! Last Resort is to be released on DVD July 2nd.
http://www.hmmawards.org/?page_id=3203
Congratulations to composers Mike Shields, Alec Harrison & Andrea Wettstein who won honours at the 2013 Alberta Film & Television Awards. Mike Shields won for Best Original Musical Score (Drama Over 30 Minutes) for "Ferocious", and Best Original Musical Score (Non-Fiction Under 30 Minutes) for "Destination Calgary". Alec Harrison & Andrea Wettstein won for Best Original Musical Score (Non-Fiction Over 30 Minutes) for "The Legend Of Warrior". See the full list of Rosie Award winners here: http://rosieawards.com/winners.html
A number of SCGC members received nominations for the Motion Picture Arts & Sciences Foundation of BC's Leo Awards! Best Musical Score in a Motion Picture: Schaun Tozer (Becoming Redwood), Simon Kendall (Lucille's Ball), and Marc Baril (Soufflé au Chocolat)
Best Musical Score in a Television Movie: Hal Beckett (After All These Years, The Wishing Tree), James Jandrisch (Hitched for the Holidays), and Christopher Nickel (Virtual Lies)
Best Musical Score in a Documentary Program or Series: Schaun Tozer (Blood Relative, The Good Son: The Life of Ray)
and David F. Ramos (Do You Really Want To Know?)
Best Musical Score in an Animation Program or Series:
Daniel Ingram and Steffan Andrews (My Little Pony: Friendship is Magic – Magical Mystery Cure)
Member News and Events:
Josh Cruddas, in addition to being a composer, is also an actor. He plays the leading role in a film called "Copperhead" opposite Billy Campbell and Peter Fonda, coming out in American theatres on June 28th. http://www.copperheadthemovie.com/
Asher Ettinger conducted an Artist Talk at NXNE on the subject of Synesthesia, the cross sensory experience of hearing sound in colour.  During the talk he presented a look at the historical and neurological background of Synesthesia along with tests of cross modal perceptions, examples, and demonstrations from his own work where Synesthesia directly influenced his creative process!
Saving Hope returns to CTV Tuesdays at 10pm beginning June 25th. In it's second season, the show features a score by SCGC member Gary Koftinoff.  http://www.ctv.ca/SavingHope.aspx
Mississauga Waterfront Festival featured the Monster Rock Orchestra show for the second year in a row, produced by Vikas Kohli. The show combines local rock musicians, singers, and orchestral musicians performing in a massive sonic and visual spectacle with cutting edge laser light technology and digital media arts projections!
http://www.themwf.com/entertainment/
Erica Procunier 's film "And Now a Word From Our Sponsors" was released to select theatres in the USA on May 10th, and available on VOD from May 6th. Her score is available on iTunes: https://itunes.apple.com/us/artist/erica-procunier/id663006312?ign-mpt=uo%3D4
Don Quarles moderated a panel at the World Creators Summit in Washington DC along with industry representatives from USA, UK, and Italy. Their panel discussion "Orphan works – Balancing access and creators' rights" examined copyright issues surrounding orphan works and changes which will have profound implications for the creative community, and particularly for photographers and visual artists. To find out more about the World Copyright Summit, visit http://www.creatorssummit.com/
Studio Cat (David Wall, Jamie Sheilds, and Adam White) scored the documentary "Secret Disco Revolution" which has been enjoying quite the buzz since its premiere at TIFF 2012. The film is opening in theatres starting June 28th. http://secretdiscorevolution.com/
Jeff Toyne composes music for the TV show ROGUE. It was just announced that the show has been renewed for Season 2.
Don't see your name here?
Email:  screencomposers@gmail.com
with your latest news!

Composer Spotlight:

Brent Belke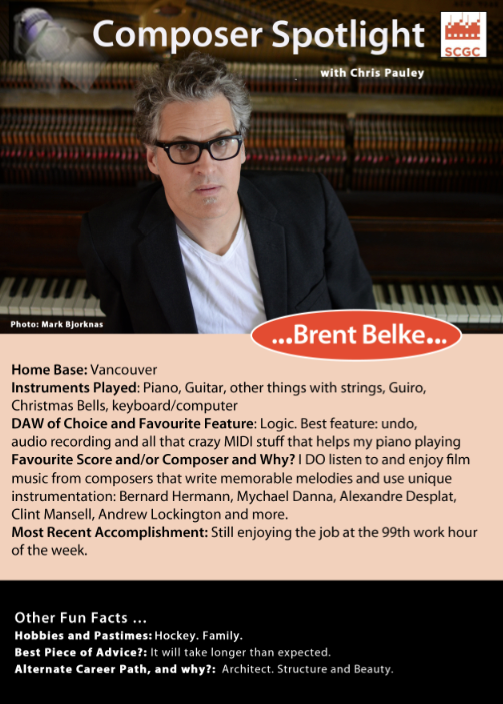 _________________________________________________________________________
We welcome your feedback and suggestions for story ideas!


Email the Guild:  info@screencomposers.ca 
Cue Notes:
Craig McConnell: Editor
Nicholas Stirling: Layout, Web
David Schellenberg: Design, Technical Support
Admin: Tonya Dedrick, Maria Topalovich