Vol.5 No.1 Winter 2017


VIEW FROM THE PODIUM

by Guest Columnist
Darren Fung, SCGC Vice President
I started writing this View from the Podium as I was traveling back to Los Angeles from Beijing.  I spent a couple of days there after a few days of family time in Hong Kong  hanging out with friends and doing some work-related meetings.
Even as I type this, I marvel at this.  Never in a million years would I have thought I'd be traveling back and forth between China and Los Angeles for work.  While my mother is relishing in her "I told you so" moment, I am regretting the Chinese school dropout that I am.
The reality is that even we, as media composers, operate in a global environment.  What is incredible is that in the span of a few short years the Guild's national and international footprint has grown exponentially, representing and advocating for the interests of Canadian screen composers.  Thanks to our past-president and current Chair Marvin Dolgay's leadership, we have a seat at the table of a multitude of alphabet-soup organizations including the Creator's Copyright Coalition (CCC), Music Creators North America (MCNA), and ACCORD which represents music creators interests to SOCAN, and beyond.
The agreements that British, Australian, French, and even Quebec composers have with their government agencies and broadcasters might set important precedents as we decide how to advance the interests of composers when dealing with the NFB and the CBC.   Looking at best practices from ASCAP, BMI, PRS and SACEM and how they work with their AV composer communities helps us work towards better relationships with SOCAN.  We are bringing back lessons learnt from many new frontiers, whether it be monetizing YouTube or China finally embracing public performance royalties, and these lessons only strengthen us in our belief that a rising tide raises all ships.
Not too long ago, we as a Guild wouldn't have known whom to call if we wanted some feedback on these issues.  Now, as corny as this sounds, our Rolodex is bursting at the seams with people who know people.
But isn't this the way our industry works?
As a grassroots organization, our Guild has always prided itself on the understanding that the more we interact with one another, the greater lengths we will go as a community to look out for one another.
We, as an organization, have a strong belief that a better-informed community standing together will stand strong.  When we see each other at socials and seminars, we begin to put faces to the people at the other end of those e-mails, and we care that much more about sending thoughtful and reasoned responses.  I've had the privilege to meet Guild members from across the country, and it never ceases to amaze me when I hear "oh yeah, I read your responses on the Discuss list all the time."
So it's in this spirit that our Guild has been representing your interests internationally, in this arena of the many alphabet soup organizations, sharing and receiving lessons learned from around the world.  At this very moment, Adrian Ellis, my good friend, colleague, and vice presidential partner in crime, is using my wifi connection while he and Marv are attending talks with the MCNA and the Society of Composers and Lyricists (the SCL) in Los Angeles.  In November 2016, Marv and our current President John Welsman were in London as the MCNA's delegate to CIAM, the international music creator congress, bringing the Canadian perspective to the table.
The kicker is that as a Guild we can't be effective internationally if we're not effective as a community at home.  Our membership is our best source of intelligence.  We are the eyes and ears on the ground.  It is amazing how quickly this grassroots community can mobilize over one e-mail sent out through its Discuss List.  As we seek to establish a new funding model, in the wake of the demise of the Creators' Assistance Program, the Guild needs, more than ever, grassroots initiatives that remind those at the helm of the ship what issues are most important to its membership.
This is a roundabout way of saying "get off the couch, and get involved!"  If you have a seminar idea, let's do it!  If you want to get together for drinks, let's do it!  While we may not have the financial resources we once had, we certainly have an abundance of enthusiasm and sweat equity.
So, fellow Guild members, let's hear from you!
***************************



Dam! The Story of Kit the Beaver:


Erica Procunier's Live Score for the TSO

Last year, the TIFF Kids Pitch Competition (sponsored by TIFF, Heritage Canada and The Toronto Symphony Orchestra) set out to fund a project with the following guidelines: make a 9 minute film with no dialogue, where the only sound effects would be those that could be created by orchestral instruments.
The winner of the pitch competition was Dam! The Story of Kit the Beaver by director Kjell Boersma, and The Guild's Erica Procunier was selected by the TSO to write the film's score. The film premiered as part of the TSO's Young People's Concert and Student Concert series in February 2017; it will continue to be performed for over 20,000 young Torontonians and across Canada with other orchestras.
Cue Notes caught up with Erica to ask her about this unique opportunity.
CN: Were there any special considerations you had to take into account when writing for live orchestra?
EP: I knew the film was going to have to be wall to wall music from the outset. I started to approach scoring this film just like any other film where I wrote the main themes in various sections and wasn't scoring chronologically. I was going to finesse the the transitions later by sewing the major sections together. I realized quickly that it wasn't going to be so simple. It wasn't like a normal film score recording session where you can record in any tempo by stopping and starting at major sections to re-establish with the click. Instantaneous tempo changes were going to be a huge synchronization issue and I had to consider how difficult it would be for the players and conductor to instantly follow the new tempos. I got about halfway through and was needing strange things in the transitions to keep the major sections in sync (various decimal point tempos, strange time signatures, etc) and realized if I just went chronologically I could do a better job thinking like a performer. So the last half of the film was written that way. If I could change to the new tempo early on a held note, that was the best way to give them a heads up about what was coming and I had to build that into the sync. Other special considerations are that orchestras in concert halls don't necessarily sound exactly like the ones you hear in film scores — you can't get the close mic effect as you would on a soloist. This mainly affected some of the dynamics decisions.
CN: Did the special circumstances of this commission require you to change your usual approach to a project?
EP: The filmmakers were animating and asking me how I felt about certain narrative ideas which was really cool. I had to ask them to tone it back just slightly when it came to how many animal noises I would have to score but I don't think they listened! The more animals, the more complicated it gets for the orchestra to stay synchronized live. I really had two clients here: the filmmaker and the TSO. I had to give them something that suited the film perfectly, but also was a great piece to play live in concert. Ideally in a situation like this, both of those clients' goals are aligned and I think they were on this project. I got a sense that the filmmakers wanted to put more emphasis on the animal sounds than I did, so in those situations I knew I had to find a way where we were both happy. I wasn't about to compromise and write whole note drones underneath sound effects for the TSO if you know what I mean! But I knew I could find a way to make everyone happy where we achieved a combination of well written music AND fully featured the orchestral sound effects.
******************************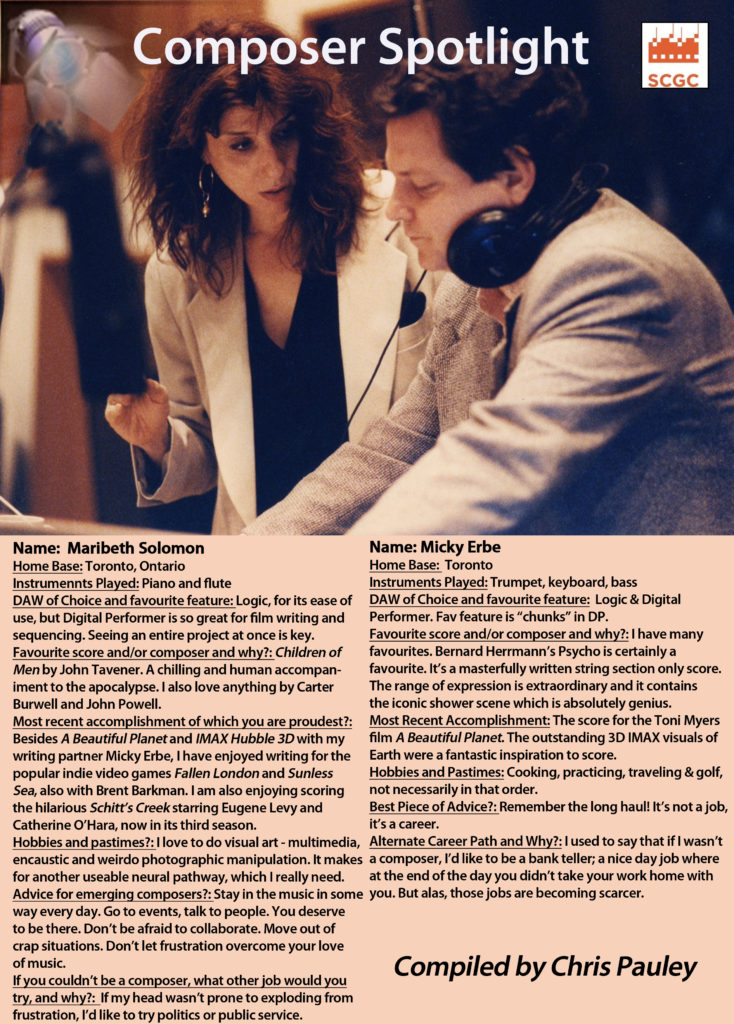 ---

—SCGC MEMBER 
---
Lesley Barber was featured in The Hollywood Reporter's 2016 Composers Roundtable, an annual interview with some of Hollywood's top film composers.
Evelyne Datl was a guest clinician at Women In Music Canada's Production and Engineering 101 workshop sharing her experiences as a composer, musician, and music producer!
Suad Bushnaq conducted a music composition lecture and film
scoring 'masterclass 'at the University of North Carolina Wilmington campus January 12, 2017.
Lisa Conway is a participant in the Canadian Music Centre's EQ Women in Electronic Music Mentorship led by SCGC member Rose Bolton.
TIFF Kids and the Toronto Symphony commissioned "DAM! The Story of Kit the Beaver", an animated short film scored by Erica Procunier. The film premiered on February 25th, 2017 after a week of performances for the TSO's education program for schools.
AWARDS
Canadian Screen Awards

Best Original Music for a Non-Fiction Program or Series – Win
Mark Korven "Guantanamo's Child: Omar Khadr"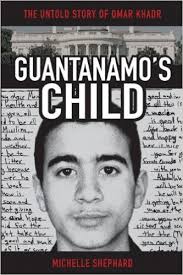 Best Original Music for a Non-Fiction Program or Series – nominees
Lesley Barber "How To Change the World"
Geoff Bennett "Moose: A Year in the Life of a Twig Eater"
with Mary O'Hara and Andre Hirz
John Welsman "Painted Land: In Search of the Group of Seven"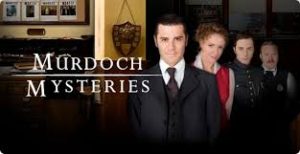 Best Original Music for a Program – Win
Rob Carli "Murdoch Mysteries: Christmas Special"
Best Original Music for a Program – nominees
Lawrence Shragge "L.M. Montgomery's Anne of Green Gables"
Jeff Toyne "Love Under the Stars"
Best Original Music for a Series – nominees
Amin Bhatia and Ari Posner "X-Company: Black Flag"
Rob Carli "Wynonna Earp: House of Memories" with Peter Chapman
Schaun Tozer "The Romeo Section"
Achievement in Music: Original Score – Win
Todor Kobakov and Steve London "Born To Be Blue" with David Braid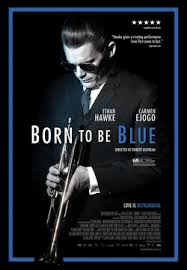 Achievement in Music: Original Score – nominee
Jesse Zubot "Two Lovers and a Bear"
International Press Academy Satellite Awards
Best Original Score – nominee
Lesley Barber "Manchester By the Sea"
Telly Awards
Silver Telly
Serge Cote "Ocean Rodeo: Turning Childhood Dreams into Commercial Success"
SCREENINGS
FILM FESTIVALS
Hamilton Film Festival:
Tristan Capacchione "Divorce Photographer"
Spencer Creaghan "The Ballad of Gloria Sedgwick"
Iain Gardner "Still Closed"
Casey Manierka-Quaile "3-Way (Not Calling)
Erica Procunier "Mariner"
Erica Procunier "Scratch"
Mike Shields "Raven Steels the Light"
Kingston Canadian Film Festival:
Steph Kowal "Sir John A. and the Curse of the Anti-Quenched"
Sebastopol Documentary Film Festival :
Suad Bushnaq "Twice Upon A Time"
Sundance:
Mikel Hurwitz "Gente-fied"
TIFF Canada Top 10:
Ben Fox "Emma"
Erica Procunier "Mariner"
Rob Teehan "Frame 394"
Edo Van Breeman "Hello Destroyer"
Toronto Short Film Festival:
Janal Bechthold "Acting Up" – Winner of Best Comedy
U-Horror Film Festival:
David Federman "Cruzar el umbral" – Winner of the Audience Award
Theatrical Release
Lesley Barber "The Apology" – limited release
Television Premieres
Steffan Andrews "Cloudy with a Chance of Meatballs" (Cartoon Network USA)
Dillon Baldassero "Coming In" (CBC Webseries)
Serge Cote "The Shutterbugs" (TVO Kids) composed and produced the songs
Greg Fisher and Derek Treffry "Ultimate Auctions" theme music (History)
Trevor Morris "Emerald City" (NBC)
Trevor Morris "Taken" (NBC)
Todor Kobakov "Cardinal" (CTV)
Michelle Osis "The Skin We're In" (CBC) additional music
Neil Parfitt "Ranger Rob" (Treehouse)
FM Le Sieur "Rupture" (SRC)
OTHER RELEASES AND NEWS
Janal Bechthold released her first electronic alternative album alongside collaborators Craig Estrella and PJ Rankin. OxfordTown's debut can be found online where ever digital music is played.
https://play.spotify.com/album/30v5wnqka08YB9GgB8bw5T?play=true&utm_source=open.spotify.com&utm_medium=open
Suad Lakišić Bushnaq's piece "Ghadan" was performed by the Syrian Expat Philharmonic Orchestra during a sold out show at the Konzerthaus Berlin
Lisa Conway participated in SOCAN's first ever "Song Camp Monday" songwriting camp held at the SOCAN offices January 2017.
Stephanie Copeland's film "Save Yourself" is now available on iTunes. https://itunes.apple.com/ca/movie/save-yourself/id1188118883
Mychael Danna has been commissioned by the Toronto Symphony Orchestra to create an orchestral suite of his Academy Award winning score to "Life of Pi". The piece will receive its world premiere September 19th, 2017.
Darren Fung's documentary "Gun Runners" is now available on Netflix.
Maxime Goulet's new work "Hymnes unis" was commissioned for the Canada 150 celebrations by Orchestre de chambre McGill and had its world premiere on January 16th, 2017. The piece had a second performance by the Toronto Symphony Orchestra on January 28th.
Jan Randall released the sheet music series "Let's Play Piano" with Ina Dykstra.
http://vistaheightsmusic.com/Vista_Heights_Music/Vista_Heights_Music.html
*********************


Canadian Screen Awards –  Nominee Interviews featuring:
Amin Bhatia  / Ari Posner
Geoff Bennett / Andre Hirz
Jeff Toyne
John Welsman
Jesse Zubot
Lesley Barber
Lawrence Shragge
Robert Carli
Schaun Tozer
Todor Kobakov




(PDF readable  / downloadable)


CSA-Interviews-2017.pdf
*************************
We welcome your suggestions for story ideas!
Email the Guild: info@screencomposers.ca
Cue Notes:
Craig McConnell: Editor
Nicholas Stirling: Layout, Web
Admin: Tonya Dedrick, Maria Topalovich