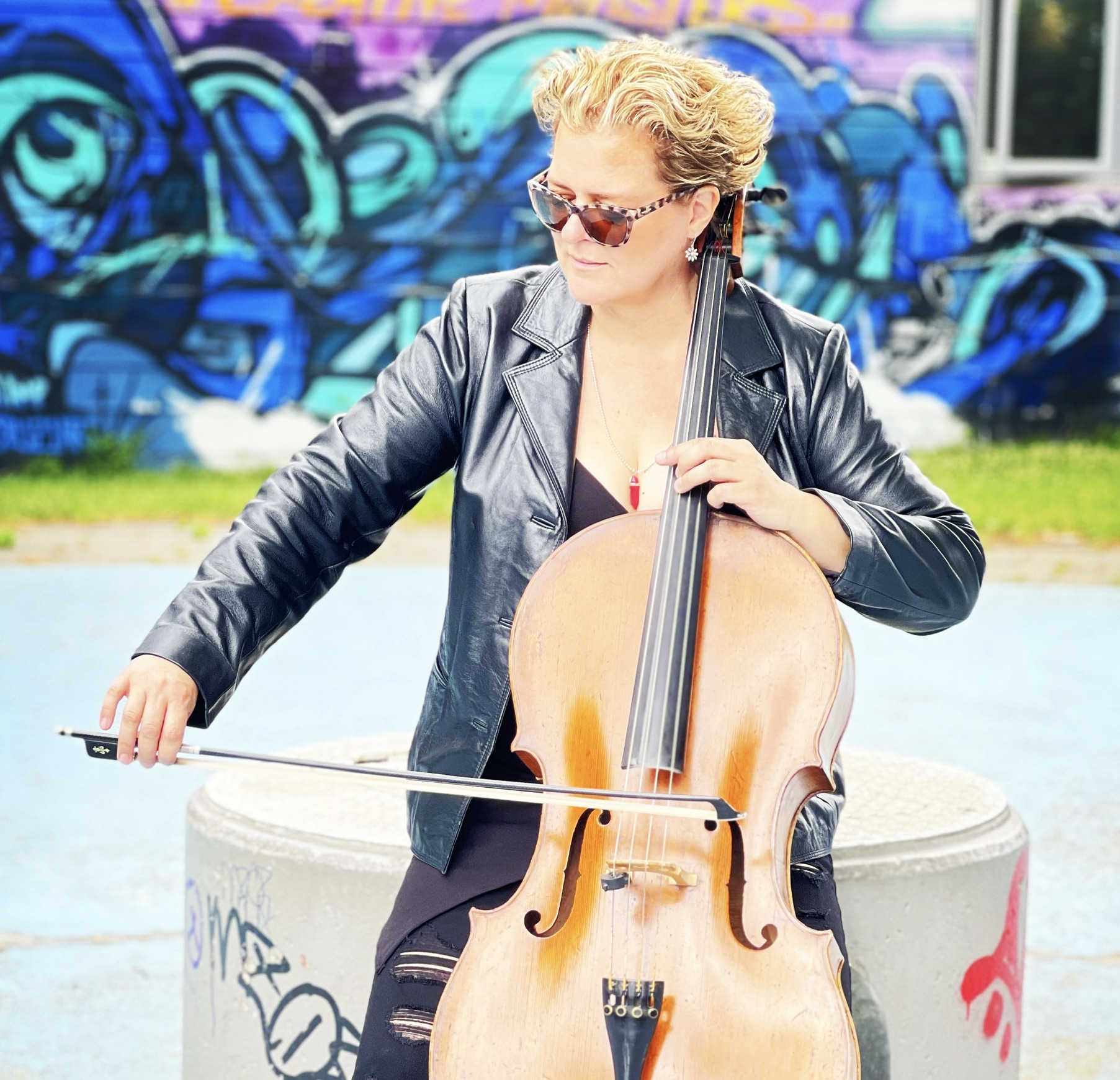 TORONTO, ON
Tel. (613)261-6968
Margaret Maria
With her masterful skills as an extraordinary cellist merging with the intuition of a gifted creator, Margaret Maria is a unique and exciting new voice in the world of music. Her talents have been described by her colleagues as, 'an unstoppable force of nature - seamless in its complete unification of technical and subconscious realms', making Margaret Maria's music one of a kind and mystifying in its process and creation.  The majority of her music has burst forth with full force since 2015, making her ascent as a composer even more remarkable.



'With a kind of synesthesia, I take in the energy waves of a moment in time, an event, poem, or concept, expand its emotions within me and then coat it in musical notes that are imbued with that emotion and send it back out into the world as music. It is my voice making a statement on what it means to be a spirit in a human form living in this world today; from our darkest instincts to our lightest facets, reflected through my music.' - Margaret Maria



A graduate of the prestigious Curtis Institute of Music, Margaret Maria's career has seen her play on many stages as a seasoned solo and chamber musical performer and in professional orchestras across Canada. Her later in life transition into composition has seen her work being performed on stage in her very first World premiere of a composition for orchestra and soprano. 'Between Worlds' was premiered in 2019 in Ottawa, featuring the Ottawa Chamber Orchestra, with guest soloist, the great Canadian soprano Donna Brown. Margaret Maria is an Associate Composer of the Canadian Music Center and the cello orchestra version of 'Between Worlds' was released on the Canadian Music Centre's Centrediscs Label, June 2022.



13 Studio albums in the making, co-creating two new sounds; Rage Angel (with SCGC composer Craig Robert McConnell) and Cinematic Steampunk, jointly working on 'Art in Divine Harmony' with the incredible Spanish painter Ángel Muriel, receiving 2 Ontario Arts Council recording grants, 3 Canada Council Grants for study abroad and creating new music, the sky is the limit when it comes to Margaret Maria's imagination and creations.
Top Credits
Margaret Maria's music translates beautifully and has been licensed into film and tv through: APM Music, hard Music Design, A-List Trailer Music, Soundscape.io, Music for Productions, Universal Music Productions, Scorekeepers Music.



Her music can be heard on shows like Top Gear, WWE Monday Night Raw, WWE Smackdown, Fifth Estate, Nova, Baroness von Sketch, Moonbase8, BT Sports UFC.
EXPERIENCE / ABILITIES
Action, Commercials, Documentary, Drama, Experimental, Horror, Musical/Opera/Dance, Science Fiction, Series - Episodic, Series - Mini, Sports, Video Games
PROFESSIONAL ROLES
Composer, Music Producer
PERFORMING RIGHTS SOCIETIES
SOCAN, ASCAP
UNIQUE EXPERIENCE / INFORMATION
During her entire career, Margaret Maria has been passionate about teaching and sharing her voice with youth. She is a Suzuki Cello teacher with a studio in Ottawa and Toronto and is the co founder of OrKidstra in Ottawa where she conducts the kids and also spearheads their KidComposers and Improv Explorer programs.
OTHER INFORMATION
Margaret Maria has recorded cello tracks for numerous SCGC members projects. Please don't hesitate to contact her for your cello needs.