DGC APPLICATION FOR MEMBERSHIP (for SCGC Members)
https://screencomposers.ca/wp-content/uploads/2013/09/DGC-Application.pdf


CANADA'S SCREEN COMPOSERS AND DIRECTORS ALLIANCE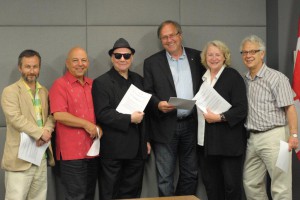 The Directors Guild of Canada and the Screen Composers Guild of Canada (SCGC) are delighted to announce a special alliance aimed at securing collective bargaining for Screen Composers working in the screen based industry in English Canada.
The arrangement, which is the result of a more than one year discussion between the two Guilds, will allow for a new membership category in the Directors Guild of Canada for "Screen Composers". The Directors Guild expects to open negotiations with the Canadian Media Production Association aimed at securing a basic collective agreement for Screen Composers with Canada's independent private sector producers.
Photo credit:  Laurie Januska
L to R:  Hans Engel, Marvin Dolgay (President, SCGC), Paul Hoffert (Chair, SCGC), Gerry Barr (National CEO, DGC), Maria Topalovich (Executive Director, SCGC) and Bill Skolnik (CEO, DGC Ontario).
\**********