Lawrence Shragge – Canadian Screen Award Nominee
Best Original Music Score for a Program – L.M. Montgomery's Anne of Green Gables
Compiled by Janal Bechthold
 
Congratulations to SCGC member Lawrence Shragge whose score for "L.M. Montgomery's Anne of Green Gables" has been nominated for a Canadian Screen Award in the category of "Best Original Music Score for a Program".

"L.M. Montgomery's Anne of Green Gables" is a retelling of the classic story of Anne Shirley, an 11 year old orphan girl, who is accidentally sent to a couple wanting to adopt a boy to help them on their farm on Prince Edward Island.

SCGC: This is a classic Canadian story!
LS: I didn't have a previous association with the story, even though I'm a  good Canadian I had never seen the other films or series. Lucy Maud Montgomery's grand daughter was one of the producers and felt like the family wanted something more authentic. Since the film was for YTV the production team was looking for a fresher take on period drama.

SCGC: Describe the process of developing the "sound" of the score
LS: As a composer I have done many period dramas but for this one in particular, being that it is hallowed ground, I wanted to find a new way in to do the score . I was looking for something new; a different approach. I've written music for close to one hundred and fifty films and I really wanted to start with a different and fresh palette.  When I start writing themes it's always fun to be surprised and inspired by the prerecords.

This is my twentieth film with the director, John Harrison. We have a terrific creative relationship. He always lets me explore to find the right sounds and approach.  It was always fun – It's like being in a sandbox and just getting to play!

SCGC: Tell us about your unique approach for this score
LS: I started off by recording a live violinist/fiddle player whom I guided through a series of improvisations. I took the recordings and worked closely with a sound designer who treated and developed the improvisations into a sound palette that could be used like an instrument during the scoring process. We created drones, textures, and  evolving loops… These new sounds were nothing that had been used before in another project – completely unique!
I combined these textural elements with live violin, guitars, dulcimers, and mandolins, and many winds to create the full score.

SCGC: How did these new tools change your approach to scoring the film?
LS: It's always exciting to start with approach, the colours and sounds inspired me. But more important than that is being empathetic to the story and characters. Then it becomes quite easy.  The story tells you what to write. The story touched on (the character) Anne Shirley's past in some darker moments in the orphanage and the new palette of sounds became very useful. The violin became the sound for Anne. Creating music for Anne's voice was so important, particularly her internal voice. In the first film initially she's not that trusting. It was very important for the music to help present her transformation in finding her humour and lightheartedness.

SCGC: What is next for you?
LS: I have already finished "Anne of Green Gables: The Good Stars" which is to be released on Feb 20th 2017 and I'm part way through the score for the third film in the series, "Anne of Green Gables: Fire & Dew".   And then I'll be doing another feature in China.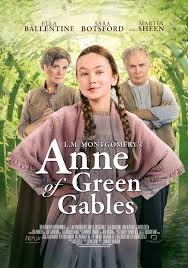 To find out more about CSA nominee Lawrence Shragge visit: http://lawrenceshragge.com/
SCGC: make sure to read his "About" page – it's a great read!